Rs 250 crore Sangamithra movie launched with backing of Indywood project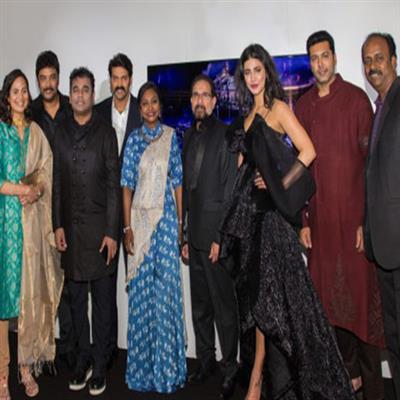 In a remarkable achievement, Indywood, a platform to unite stakeholders in Indian Film Industry under one roof, witnessed the proud launch of another big budget movie under its umbrella. This time Indywood attracted Sri Thenandal Films, one of the leading film production companies in India, to produce Rs 250 crore Sangamithra, a multilingual historic movie. The movie starring Jayam Ravi, Shruti Haasan and Arya was officially launched at Cannes on Thursday in front of an elite crowd of over 1000 film industry legends from more than 100 countries along with the Cast and Crew of Sangamithra.
Indywood, a 10 billion USD project, which aims at elevating Indian Film Industry to a global platform in the next five years, is promoted by a consortium of 2000 Indian billionaires and corporates to invest Rs 70,000 crore in Indian Film Industry. Leading NRI entrepreneur Sohan Roy (www.sohanroy.com), Chairman and CEO of UAE-based Aries Group, is the Founder Director of Project Indywood.
The key officials of Tamil Nadu based Sri Thenandal Films had attended Indywood Film Carnival 2016 held at Ramoji Film City, Hyderabad, India.
"The initiative taken by Indywood to capture Global Market through its upcoming 10000 screen release network boosted our confidence to make this mega project. We believe that through the International platform created by Indywood Mega projects like Sangamithra which will change the destiny of Indian film industry can be planned and executed confidently," said Mr.Ravi Kottarakkara, an official of Sri Thenandal Films.
Indywood, earlier, had attracted Rs 1000 crore investment to Indian Film Industry from UAE-based billionaire BR Shetty to produce magnum opus project titled Mahabharata. As the special guest of Indywood Film Carnival 2016, BR Shetty had announced his willingness to invest in Indian Film Industry.
"Sangamithra is our prestigious project. We are excited to make a period film dedicated to Tamil, the oldest language in the world. It will be made in Tamil, Telugu and will be dubbed in Hindi," said an official of Sri Thenandal Films. Double Oscar-winning AR Rahman has been roped in to compose music
---