AriesPlex SL Cinemas, the renovated SL Theatre at Trivandrum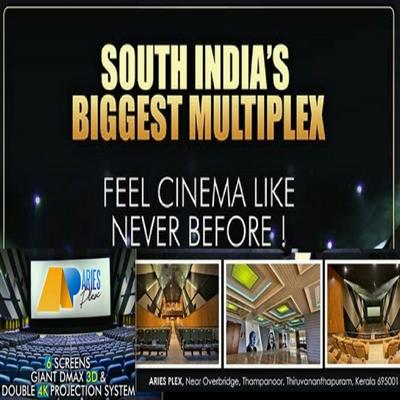 Lie back on one of the cosy recliners and experience the movie: feel the rain, race with your superstars and romance with your favourite stars, courtesy the magic of India's first dual wide screen 4K projection and 64 channel Dolby Atmos.
AriesPlex SL Cinemas, the renovated SL Theatres, promises all the above and more as it opens its doors to a cinema-hungry audience.
Last year, photographs of the renovated SL theatres went viral on Facebook. As the photographs began circulating on Whatsapp without the name of the theatres, social media users tried to guess where this theatre was. Movie buffs were awe-struck by the makeover that the 35-year-old cinema complex had undergone. "The experience would be totally different from whatever people have had before. We have spared no expenses and have brought the best technology and facilities that are available," says filmmaker B. Unnikrishnan, managing director of the AriesPlex SL Cinemas. Its chief promoter is Sohan Roy, chairman of AriesPlex.
There is little to argue about as Athulya is now the biggest silver screen and the only theatre in South India to have double 4K projection facility, he adds. Single 4K projection itself is available only at one theatre in Trichy.
"I am a filmmaker. I know how important it is to experience the movie rather than just watch it. Nowadays movies are shot in 8K and then scaled down to 4K and then to 2K due to non-availability of 4K projection. This drastically affects the quality of visuals. Amal Neerad, for example, had done several 4K shots in his Iyobinte Pusthakam but could not bring it to the audience since there were no theatres with 4K facility," says Unnikrishnan.
The 64 channel Dolby Atmos sound system brings alive the subtle sounds and pulls you into the wizardry of motion picture. The individually powered speakers along with the five-way system installed in place of the usual three-way format assures goosebumps. The 64 channel is again a first in South India.
The double 4K projection is yet another wonder that the renovated SL cinemas gifts to moviegoers.
Explaining the special facility, Unnikrishnan says, "Usually 3D projection involves the use of a polariser in front of the projector. But this cuts down the amount of light projected and renders the movie a little dark. To avoid this we have spent an enormous amount to install double 4K projection and greatly enhance the 3D experience. I don't think any theatre in India has this particular facility."
The seating and interiors too have undergone a luxurious makeover with imported fabric. The coziness of the recliners in the upper circle of Athulya is something to be enjoyed rather than being told. With all these facilities, the hike in ticket price is obvious. Five other screens at SL are also undergoing renovation with new silver screens, 2K projection, 5.1 DTS sound systems and high-end seating.
Sreekandan, a projectionist at SL for the last 11 years is quite thrilled about the changes. "People enjoy and respect true quality."
---