USD 10 BILLION PROJECT INDYWOOD INVITES NOMINATIONS FOR 1ST INDYWOOD ACADEMY AWARDS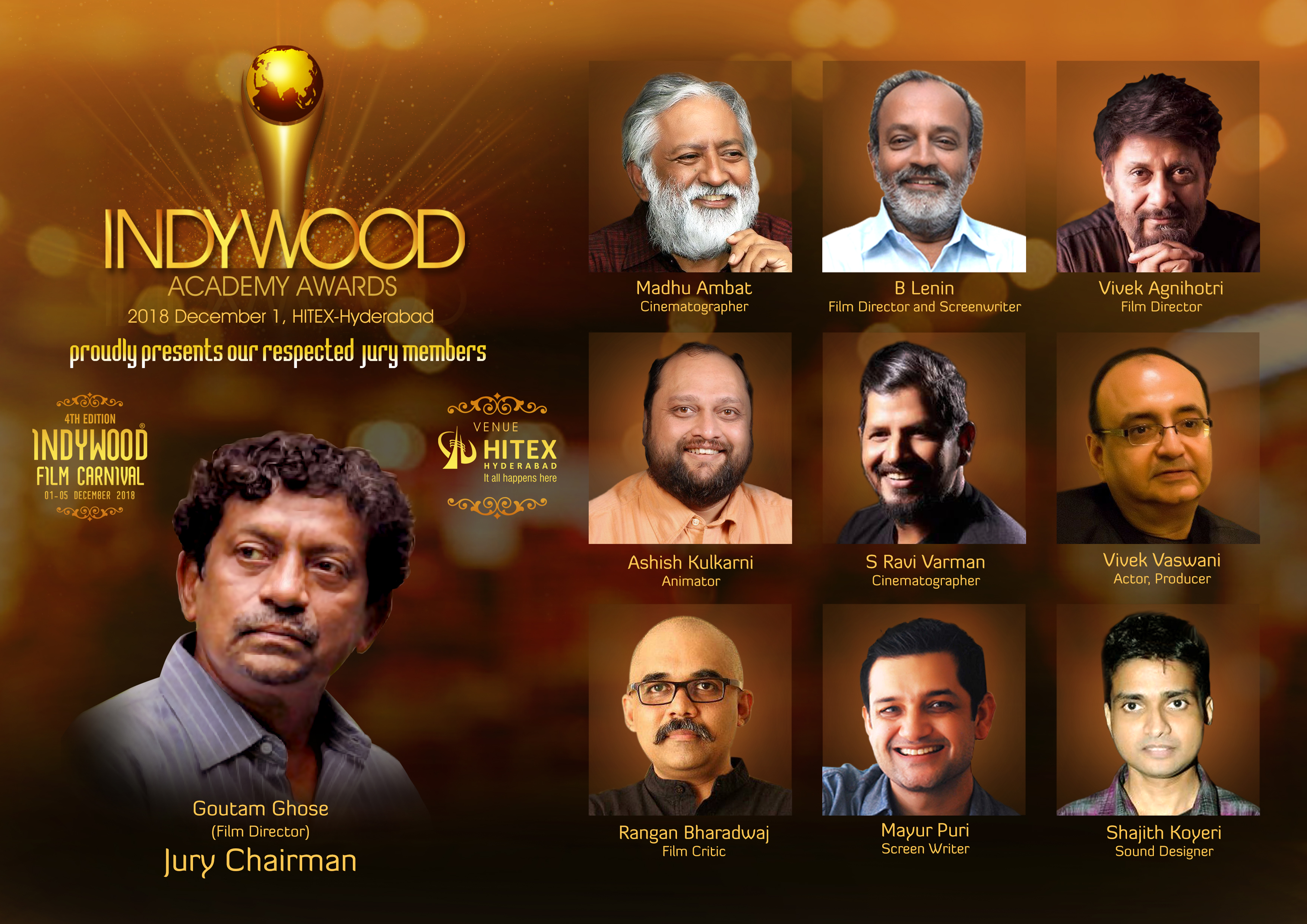 The Awards will cover every regional film industry of Indian cinema
The event will be held on Dec 1st at Hitex, Hyderabad
Bengali filmmaker Goutam Ghose confirms as Jury Chairman
Ushering in a new era for Indian cinema awards, the prestigious Project Indywood has initiated the 1st ever Indywood Academy Awards (IAA).
To be held at HITEX, Hyderabad on December 1st as part of the Indywood Film Carnival, the IAA is the first of its kind to move away from the traditional selection processes and will rely on a multi-stage selection process that involves 1000+ members of the World Film Society and a 10 member Executive Jury Panel. Renowned Bengali filmmaker, music director, and cinematographer Goutam Ghose has confirmed as Chairman of the Executive Jury Panel.
The initial entries will be open to all and the contention list will be prepared internally, after which the shortlist nominations will be prepared based on recommendations given by members of the World Film Society. The final winners will be picked by the Executive Jury Panel, who will then declare the winners on the day of the event.
The primary aim of IAA remains to promote excellence in different categories of filmmaking, raise global attention for films that are not inherently commercial, and to encourage production of quality films on a global stage.
JURY COMMITTEE
The 10 member Executive Jury Panel will be headed by Goutam Ghose and will include Ashish Kulkarni, B Lenin, Madhu Ambat, Rangan Baradwaj, Ravi Varman, Shajith Koyeri, Viveck Vaswani, Vivek Agnihotri and Mayur Puri.
The World Film Society, a forum designed and developed for uniting film sectors across the world for the betterment of the global film industry, will play a crucial role in preparing the nomination to shortlist. Initiated as part of Project Indywood, WFS aims to support the movie industry by creating a close-knit relationship between motion picture associations and their related departments.
The IAA will recognize excellence in Indian regional cinema and international cinema as part of Project Indywood's mission to unify global cinema cultures under one roof. Awards will be presented in 26 categories, including Best Foreign Language Film and Best Performance in a Leading Role -Foreign Language Film
Entries to the 1st Indywood Academy Awards can be submitted at indywoodacademyawards.com/ or filmfreeway.com/indywoodacademyawards
AWARD CATEGORIES:
Best Actor in a Leading Role
Best Actor in a Supporting Role
Best Actress in a Leading Role
Best Actress in a Supporting Role
Best Child Artist
Best Screenplay – Original
Best Screenplay – Adapted
Best Picture
Best Director
Best Children's Film
Best Choreography
Best Animated Feature
Best Art Direction
Best Cinematography
Best Costume Design
Best Sound Editing
Best Sound Mixing
Best Visual Effects
Best Film Editing
Best Makeup
Best Music Direction
Best Lyrics
Best Playback Singer – Male
Best Playback Singer – Female
Best Foreign Language Film
Best Performance in a Leading Role - Foreign Language Film
About Indywood Film Carnival
Indywood Film Carnival has been a platform to meet, connect and showcase the best of India's numerous film industries with national and international stakeholders of cinema. It is where filmmakers, production houses, technology providers and aspiring artists converge to make the dream of a unified Indian film industry a reality.
Continuing the success streak of its predecessors, Indywood Film Carnival 2018 shall return for its fourth edition from Dec 1-5, 2018. The event shall comprise of the All Lights India International Film Festival (ALIIFF), Indywood Film Market, Indywood Talent Hunt, Investors Meet and an array of Excellence Awards.
---