All Lights India International Film Festival (ALIIFF) 2018: Entries invited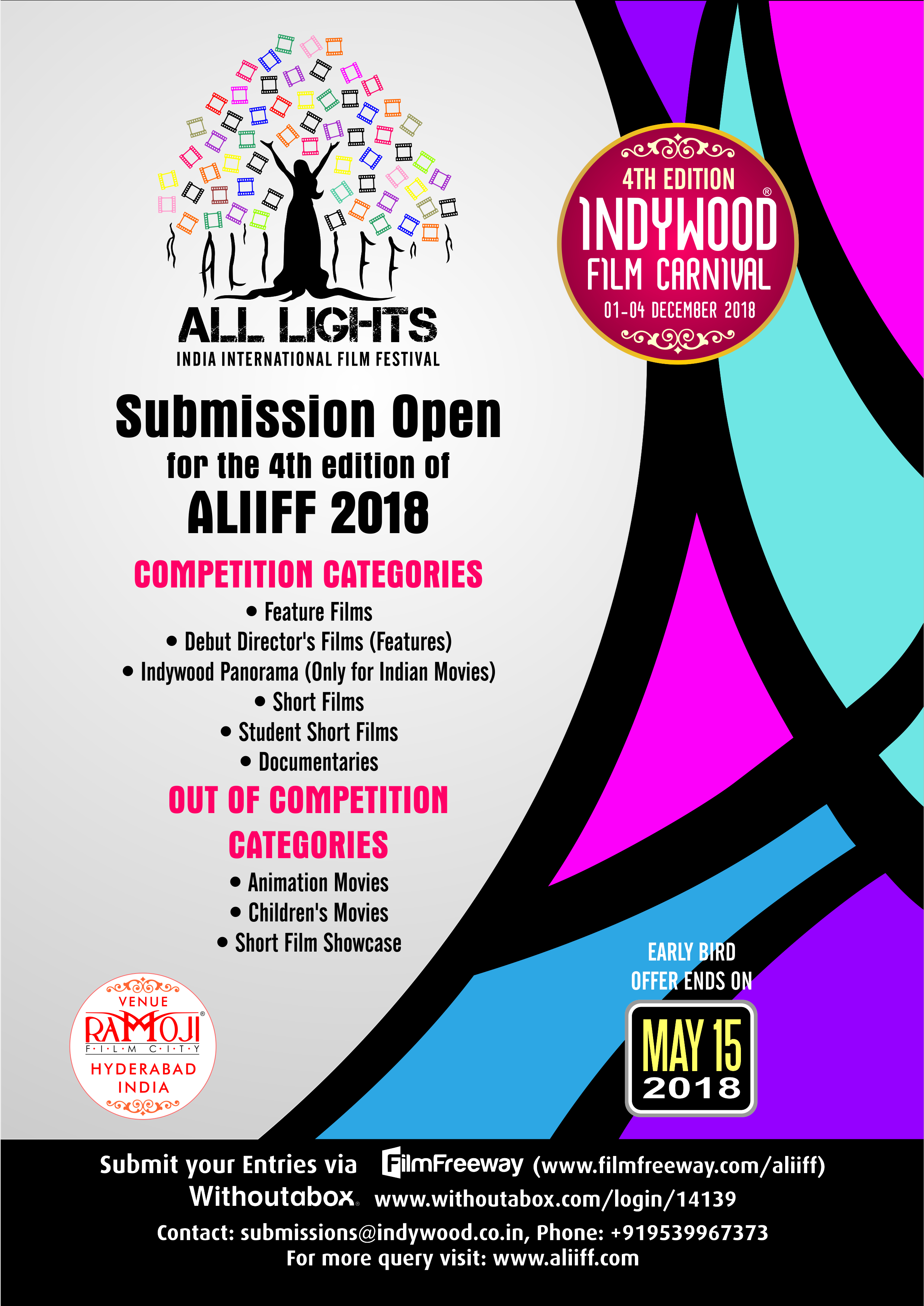  ALIIFF 2018 will be held as part of Indywood Film Carnival
 Winners will be rewarded with cash prize, a certificate and a trophy
 10 billion US dollar Project Indywood is organising Indywood Film Carnival
 NRI industrialist Sohan Roy spearheads Indywood and ALIIFF
All Lights India International Film Festival (ALIIFF), the film festival arm of 10 billion US dollar Project Indywood, has invited entries from filmmakers, international and domestic, to the fourth edition of festival which will be held at Hyderabad, India from December 1 to 4.
The National award winner Balachandra Menon, a multifaceted personality in Indian Film Industry, is designated as the Festival Director for ALIIFF 2018. He holds a unique world record for handling various sections in film. Apart from acting he has done direction, scriptwriting, story and dialogues in 29 films.
Feature Films, Short Films, Documentaries, Student Short Films and Indian movies of any duration produced from Jan 2017 to June 2018 are eligible for participation in the competition category. Debut directors can also submit applications. IV Sasi Memorial award for Best Indian Debut Director has been instituted under competition category in the memory of late Indian Director Shri. IV Sasi, former director of ALIIFF 2016. Under the Out of competition section we have exclusive categories for animation, children's films and short film showcase.
Interested candidates can submit entries through www.aliiff.com, Withoutabox (withoutabox.com) or FilmFreeway (filmfreeway.com). The early bird deadline will close by May 15 and the regular deadline will end on July 15. The winners will be rewarded with cash prize, a certificate and a trophy.
The third edition of ALIIFF was a resounding success in terms of movie screening and participation. 135 movies crafted by brilliant technicians from 50 countries were screened. While 300 plus delegates both international and domestic including leading actors and technicians attended.
Sohan Roy, director of Hollywood movie Dam999, spearheads 10 billion US dollar Project Indywood which aims to elevating Indian Film Industry to global standards in the next five years through a consortium of 2000 Indian billionaires and corporates.
For more details, please log on to aliiff.com
For enquiries, please contact: Vyshak Prasannakumar: +91 9539967373 /+91 484-406666
---