Indywood Film Carnival 2017 inaugurated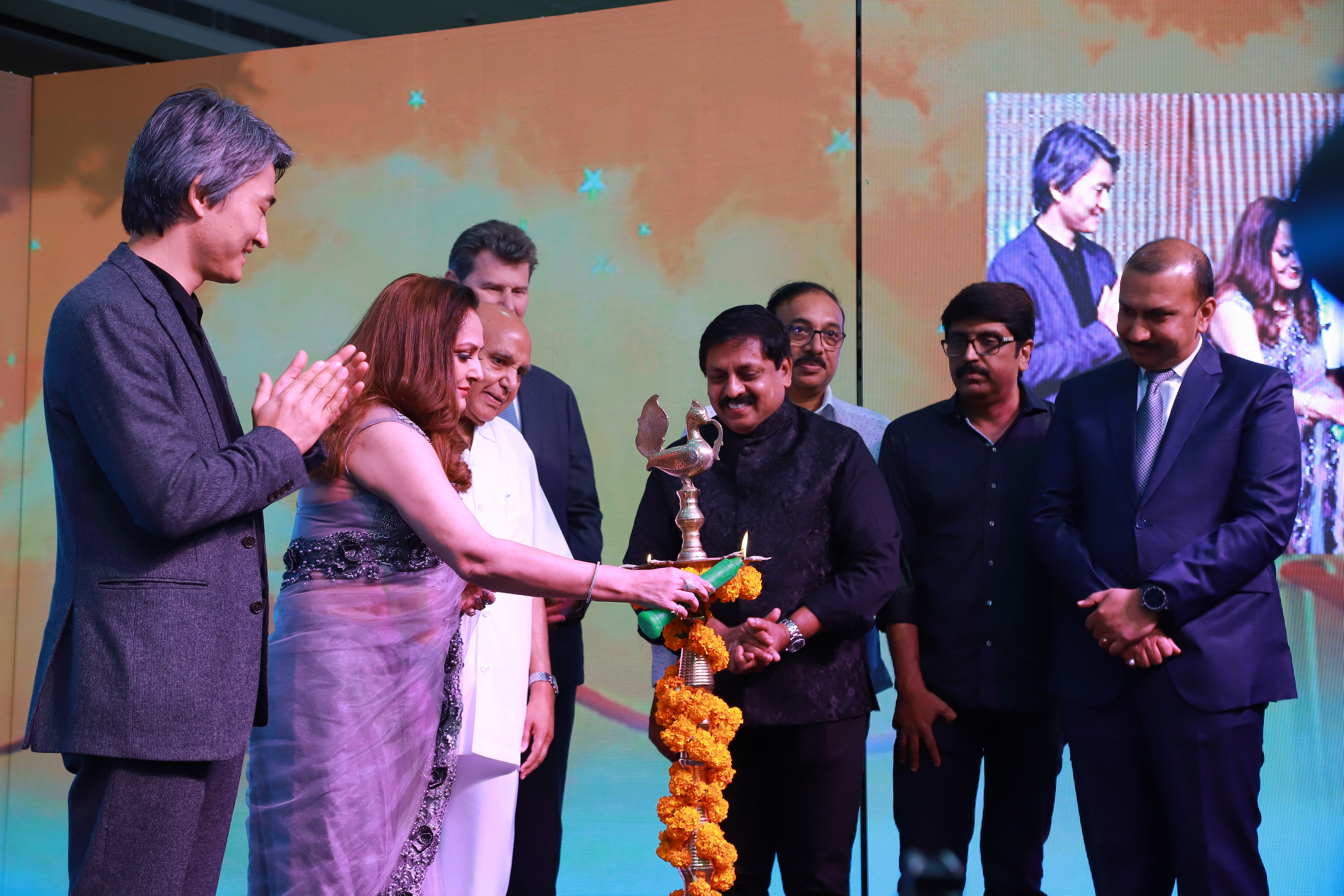  10 billion US dollar Project Indywood is organizing the film carnival
 UAE-based NRI industrialist Sohan Roy spearheads Indywood
 Over 50 billionaires and tycoons from 100 plus countries were attended
 More than 5000 trade delegates, 50,000 footfalls, 500 investors and 2500 plus
talents to attend the carnival
At a glittering function, the third edition of Indywood Film Carnival (IFC), an ambitious initiative of 10 billion US dollar Project Indywood, was inaugurated at Princess Hall at Ramoji Film City. Telangana State Film Development Corporation Chairman P. Ram Mohan Rao, Telangana Information and Public Relations Department Commissioner Navin Mittal IAS, Eenaadu Group Chairman Ramoji Rao, Thorir Ibsen, Ambassador, Iceland Embassy attended the function. Bollywood actress Jayaprada was bestowed with prestigious Icon of Indian Cinema award on the occasion. Noted music director turned actor K Vishwanath was also honoured.
The four day Indywood Film Carnival will draw 50,000 footfalls, 5000 trade delegates, 500 plus investors, 300 exhibitors and 2500 plus talents from across the country. Renowned film stars, leading technicians and eminent personalities from various walks of life will attend the carnival in the coming days. UAE-based NRI industrialist Sohan Roy spearheads Project Indywood which is being promoted by 2000 Indian billionaires and corporates. Sohan Roy who is also the Chairman and CEO of UAE-based Aries Group aims at initiating 10,000 new 4K projection multiplex screens, 100,000 2K/4K projection home cinemas, 8K/4Kfilm studios, 100 animation/VFX studios and film schools conforming to international standards.
Indian Billionaires Club inaugurated
It was followed by the inauguration of Indian Billionaires Club, major highlight of Indywood Film Carnival, was attended by 50 billionaires of Indian origin and over 500 investors from across the globe. Prominent NRI entrepreneurs were honoured with prestigious Pravasi Ratna award for their business excellence. The major categories of the carnival are - All Lights India International Film Festival (ALIIFF), Indywood Film Market (IFM), Indywood Talent Hunt (ITH) and Indywood Excellence Awa rds.
World of Cinema
All Lights India International Film Festival (ALIIFF) will screen 130 plus movies from 50 countries. The third edition of ALIIFF has received over 1000 film submissions from over 80 countries. Among this, 130 plus films have been shortlisted for screening in six competition and 8 plus non-competition categories respectively.
ALIIFF 2017 will also showcase a retrospective of Shyam Benegal as a tribute to the master filmmaker. Another highlight will be the trilogy of 11 Palanca Award Winner Filipino Director Jun Robles Lana. ALIIFF will also have a special section dedicated to animation and environmental movies this year.
Global business
While Indywood Film Market (IFM) expo has been conceptualized to connect stakeholders of the film industry with technology providers, developers, service personnel, production agencies, distribution partners, theatre owners etc.
The expo consists of four categories - IFM Tech Expo (A dedicated section for the world's best film technologists to showcase their latest products), IFM Theatre Expo (Tailor-made venue for world's best theatre technology providers, audio-video equipment manufacturers, seating providers, and theatre owners to showcase their solutions and services), Cine Hut (A demonstration room holding multiple desktops for technologists, individuals and professional filmmakers to showcase their innovations and creative work to public) and IFM Market Screening (A state-of- the-art Indywood Homeplex equipped with latest acoustics, A-V features and recliner chairs. Exclusive screening of films can be organized for sales agents, distributors, producers, festival programmers and directors).
Indywood Talent Hunt will be an international platfrom for youngsters to showcase their talents. The competitions will be held in 22 categories including short film, music, dance, still photography, advertisement, educational video, documentary film, animation character, drama, poster designing, dubsmash, performance art, film quiz, online promotion, music album, DJ, children's short film, best reporter or journalists, RJ hunt, VJ hunt, film club and model hunt.
---