Indywood Maritime Excellence Awards 2017 Honored Maritime Personalities at Hyderabad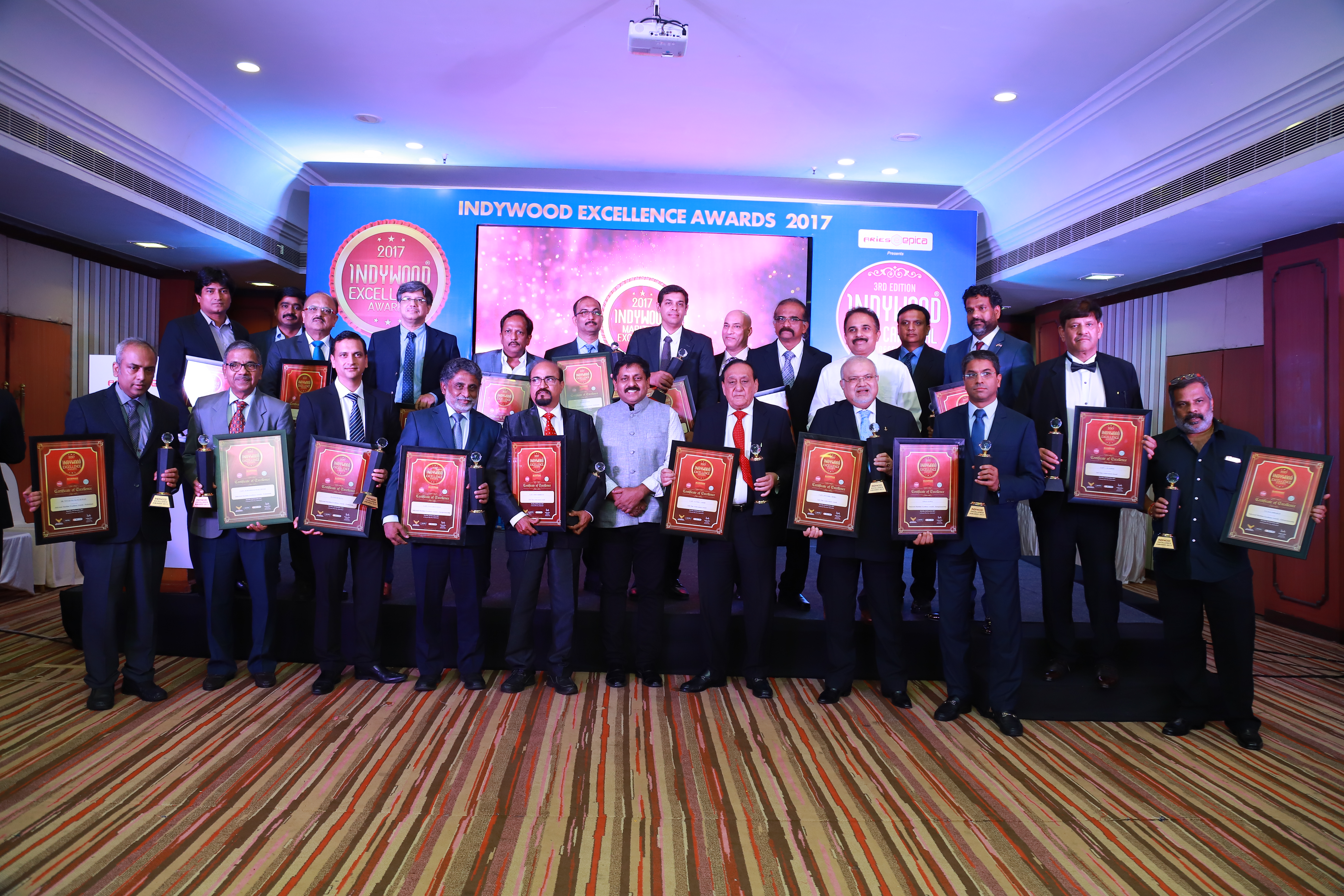 The prestigious Indywood Maritime Excellence Awards 2017 concluded successfully at Ramoji Film City, Hyderabad on 2 nd December 2017. The award was organised to recognize and facilitate efforts made by maritime organisations and personalities towards the development of their sector. Mohammed Ibrahim Alqahthani was the chief guest for the event.
Recognizing the contributions of an individual over the whole of a career, rather than or in addition to single contributions, Indywood Maritime Excellence Award – Lifetime Achievement award was bestowed upon Capt Jitendra Misra, Managing Director, Emarat Maritime LLC; Capt. Chris Rodricks, Seamec; Capt. A R Sabnis, Founder, Good wood Ship Management and Capt. Satish C. Sood, Chairman and Managing Director, IMS Group.
Indywood Maritime Excellence Awards - Professional was bestowed upon Mr. Anil
Radhakrishnan, CEO & Director, Adani Logistics Limited; Mr. Rajesh J. Dhadwal, Managing Director/CEO, Campbell Shipping; Mr. Rajneesh Rana, Director, Evergas Ship Management; Dr. Totakura Bangar Raju, HOD - Shipping & Ports, University of Petroleum and Energy Studies; Mr. Sunil Kumar Trehan, President, Jindal; Capt Surinder Kumar Chugh, CEO, Cosco India; Mr. Sivaram Krishnan, VP, Reliance Deep Water; Mr. Sanjay Kelkar, MD, ASP Ship Management; Mr. Satish Kumar, MD, Dockendale; Mr. Vijay Nambiar, Director, Aurum Ship Management; Mr. Sidharth Kulbhaskar, Head - Technical & Operations Excellence, Shell UK and Dr. Jayakumar, MD & CEO, Vizhinjam International Seaport.
Indywood Maritime Excellence Awards - Entrepreneurship was bestowed Capt. Rajesh Deshwal, CEO, Darya Shipmanagement; Mr. S.V. Anchan, Chairman & MD, Safesea Group; Mr. Vinay Gupta, Founder, Union Marine Management Services (UMMS); Capt. P. B. Narayanan, Founder, ABS Marine; Mr. M N Shah, CMD, Arcadia Ship Management and Mr. T.S. Kaladharan, Chairman, Consolidated Shipping Group.
The distinguished award presenter for the Award Ceremony was Dr. Praveen Singh, Chairman of Geetvam Corporation Limited.
A panel discussion on 'How to integrate maritime industry with technology' was also conducted during the ceremony. The panel includes - discussed the ways and innovations which are being carried out in the maritime industry to bring it closer to the layman's world. The session was moderated by Dr. Totakura Bangar Raju, University of Petroleum and Energy Studies.
Indywood Maritime Excellence Awards 2017 was organized as a part of Project Indywood, a US$10 Billion Project to be initiated by a consortium of 2000 Indian corporate and Multi-Millionaires.
---