Indywood CSR Excellence Awards 2017 successfully concluded at Hyderabad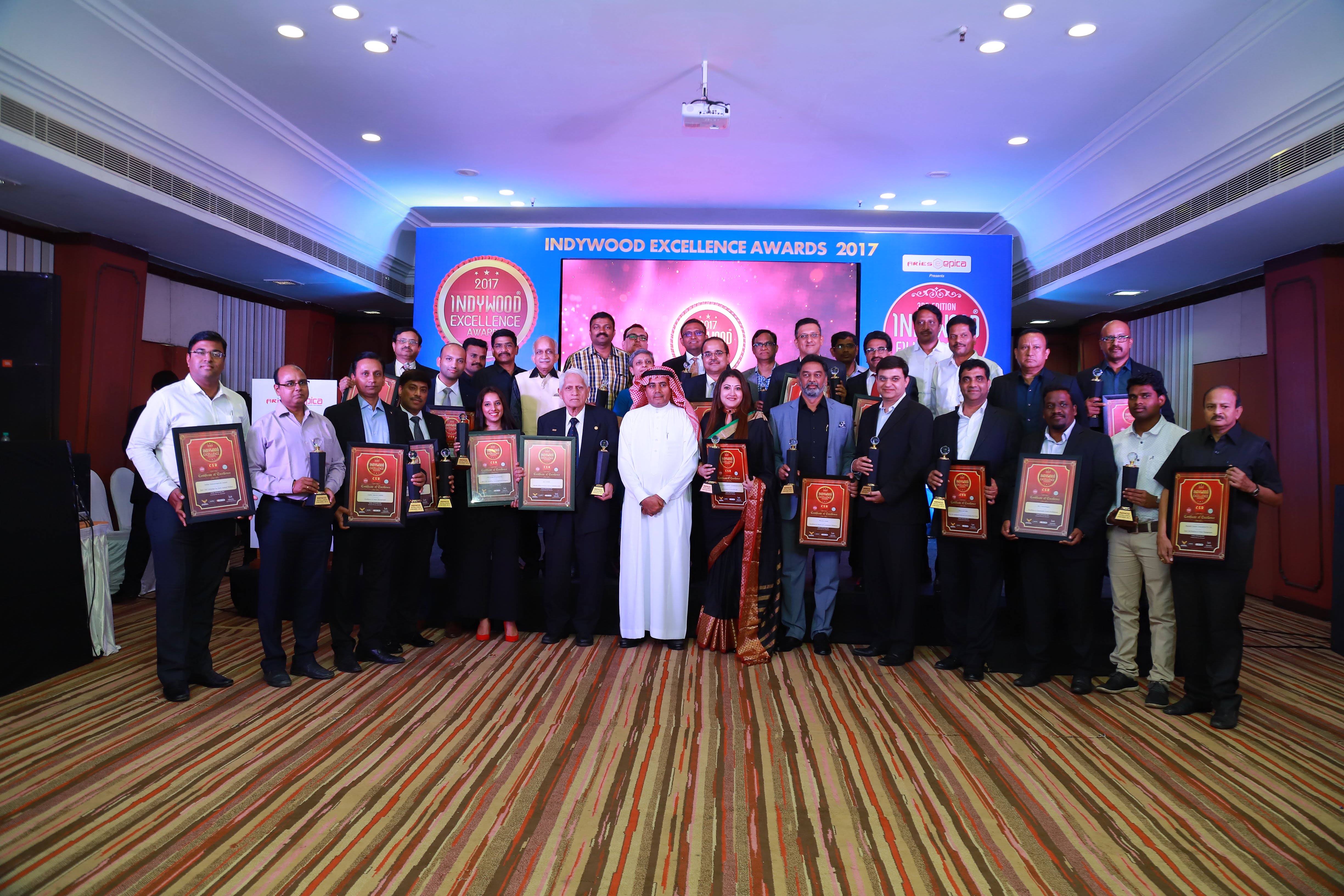 The prestigious Indywood CSR Excellence Awards 2017 concluded successfully at Ramoji Film City, Hyderabad on 3rd December 2017. The award was organised to recognize and facilitate efforts made by hospitality industry professionals towards the development of their sector. The esteemed Award Presenters for the event were Mr. Mohammed Ibrahim Al Qahtani, Senior Advisor, Saudi Aramco and Mr. Sabu Cyril, Indian film Production Designer.
Recognizing the contributions of an individual over the whole of a career, rather than or in addition to single contributions, Education Lifetime Achievement Award for contribution to CSR was bestowed upon Mr. Bala Warrier, Mentor for Sambhav Foundation.
Special CSR Excellence Awards – Hall of Fame were also presented during the event. This award was bestowed upon professionals to recognize the outlook, dedication and hardwork. This award was presented to GMR Group; Reliance India Limited and GVK group
Other award winners included Godrej Agrovet Limited (Excellence in Water management); ITM Group Of Institutions (Best CSR award for encouragement of sports); Capgemini – India (Best CSR practices in Education); Phoenix Group (Excellence in Social and Community Initiatives); Hindustan Power Projects Private Limited (Excellence in Tribal Community welfare); Suzlon Energy Ltd. (Best CSR practices in Natural Resource development); Mission Of Mercy Hospital And Research Centre (Excellence in Healthcare); Honeywell India (Best CSR campaign for sustainable Safe Drinking water project); Bharathi Cement Corporation Pvt. Ltd (Best CSR practices in Waste management); Tube Investments of India Ltd - Murugappa group (Excellence in Women Empowerment); True Value Homes (I) Pvt Ltd., Chennai (Best campaign for Disaster mitigation); V Guard Industries Ltd (Best CSR practices in Community Support); Kitex Garments Ltd (Best CSR campaign in affordable Housing); Transport Corporation of India (Best CSR campaign preventive healthcare); Yes Bank (Best CSR practices for engaging and empowering Youth); Kajaria ceramics Ltd (Best CSR practices in Sanitation and Hygiene); 7Cs Group (Excellence in Rural Upliftment programmes); Indian Immunologicals Limited (Best CSR campaign for Farm Animal Welfare); HCL Technologies (Excellence in Sustainable Social Development) and Apollo Tyres Ltd (Best CSR campaign for Biodiversity and Climate change)
A panel discussion on 'Using Remote and portable interactive techniques for rural education in India' was also conducted during the ceremony. The panel discussed quality education can be made available at rural places. Panelists for the Session were Meena Raghunathan, Director, GMR Varalakshmi Foundation, Mr. Sohan Roy, Founder & Director, INDYWOOD, Ms. Pallavi Magoo, Head of CSR Initiatives & International Relations at ITM Group of Institutions and Kumar Anurag Pratap, CSR Leader, Capgemini. The session was moderated by Mr. Prasann Thatte, Head, Monitoring & Evaluation, Reliance Foundation.
Indywood CSR Excellence Awards 2017 was organized as a part of Project Indywood, a US$10 Billion Project to be initiated by a consortium of 2000 Indian corporate and Multi-Millionaires.
---