Renowned Healthcare practitioners and organisations honoured with Indywood Medical Excellence Awards 2017 at Hyderabad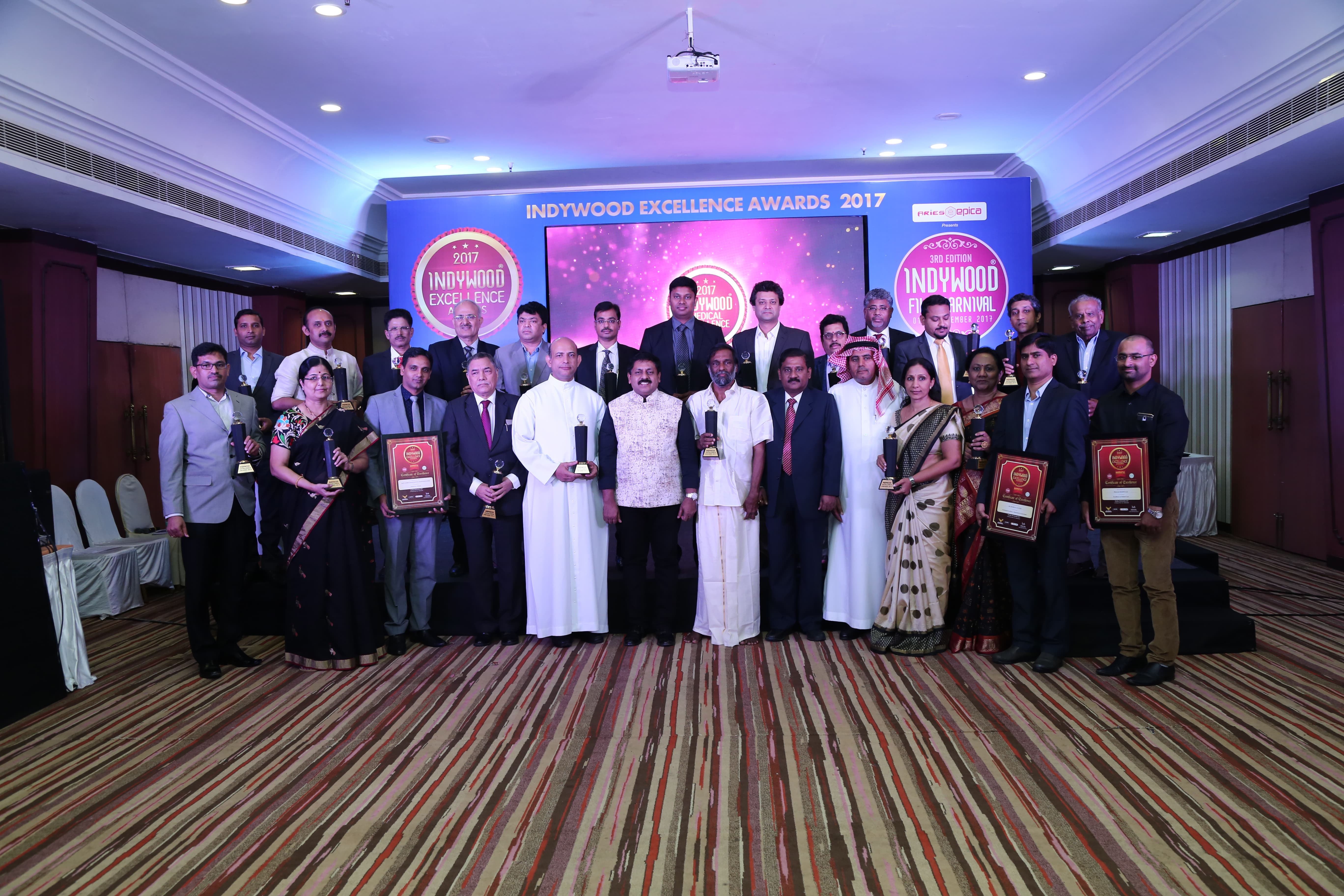 The prestigious Indywood Medical Excellence Awards 2017 was concluded successfully at Ramoji Film City, Hyderabad on 4th December 2017. The award was organised to recognize and felicitate healthcare practitioners and organisations for their relentless services to the society. The esteemed Award Presenter for the event was Mr. Mohammed Ibrahim Al Qahtani, Senior Advisor, Saudi Aramco.
Recognizing the contributions, outstanding service and accomplishments spanning through a career in healthcare, Indywood Medical Excellence Award – Lifetime Achievement award for Professional Services was bestowed upon Dr D Nageshwar Reddy, Chairman, Asian Institute Of Gastroenterology; Dr M Chandrashekhar, Owner, Charaka - The Speciality Ayurveda was bestowed with Lifetime Achievement for Entrepreneurship and Shri Mohanan Vaidyar was bestowed with Lifetime Achievement – Traditional Medicine.
Indywood Medical Excellence Awards was bestowed upon the talented minds in the industry in 2 more categories: Individuals and Organisations. The winners included Mr. Sanjay Prasad, Executive Director & CEO, Mission Of Mercy Hospital And Research Centre (Excellence In Professional Services - Health Care Management); Dr. AK Pillai (Initiative in Promoting Medical Industry through Media); Dr. Sangita Reddy, Joint Managing Director, Apollo Hospitals Group (Health Care Management- Women Personality of the year); Dr. Shobhana Patted, Director, Patted fertility and research centre (Professional Excellence - Obstetrician & Gynaecologist); Dr. A Nagendra Prasad, Consultant Surgical Gastroenterologist And Laparoscopic Surgeon, Continental Hospitals (Professional Excellence - Laparoscopic Surgery); Prasad Hospitals (Excellence in Patient Care); Sri Ramachandra university and medical centre (Medical Institute for Teaching excellence); L V Prasad Eye Institute (Best Initiative for Eye Care); Lisie Hospital (Hospital for Heart transplant surgery); Sai Sanjeevini Hospitals (Medical Care-Orthopedic); Cipla Health Limited (Best Healthcare brand); CARE Group of Hospitals (Multi super speciality healthcare provider); Grewal Eye Institute (Medical Care – Ophthalmology); Sahyadri Hospitals (Quality Health Care Services); Rajiv Gandhi Cancer Institute and Research Centre (Medical Care - Oncology); FMS Dental Hospitals (Medical Care – Dentistry); Arya Vaidya Pharmacy (Best Ayurveda Pharmacy); Basavatarakam Indo American Cancer Hospital & Research Institute (Best Single Speciality Hospital); Aster MIMS (Most Preferred State of the Art Healthcare Destination); Challa eye care centre (Preferred Hospital for Cataract & Refractive Surgery - LASIK); Kamineni Fertility Centre Pvt. Ltd (Best Medical Care - Gynaecological Services); Lourdes Hospital (Best Hospital - Tertiary Care) and Dr. Mehta's Hospitals (Hospital for Clinical Care)
A Panel Discussion on 'The Role of Visual Media in Medical Industry" was also conducted during the ceremony. The panelists included Sohan Roy, Chairman Aries Group of Companies & Founder Director, INDYWOOD; Dr. A.K Pillai, Doctor cum Film Producer and Dr. Asma Khan, Vice President of Kamineni Fertility Centre discussed how visual media can support and transform the medical industry. The session was moderated by Padmabhushan Dr. D. Nageshwar Reddy, Chairman, Asia Institute of Gastroenterology.
Indywood Medical Excellence Awards 2017 was organized as a part of Project Indywood, a US$10 Billion Project to be initiated by a consortium of 2000 Indian corporate and Multi-Millionaires.
---