Saawan bags ALIIFF Golden Frame Award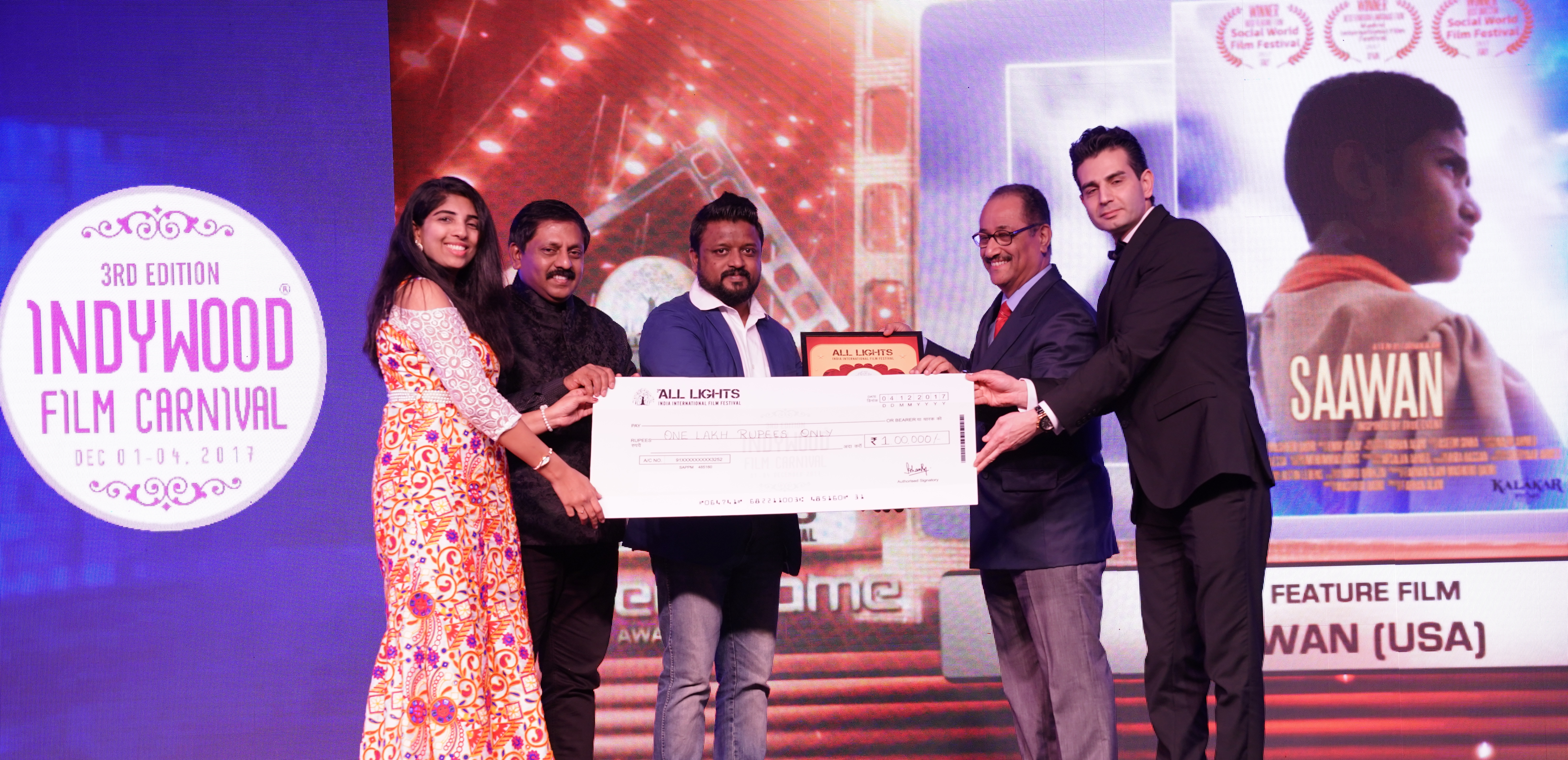 The award comprises of cash prize, a certificate and a trophy
The third edition of Indywood Film Carnival power packed with entertainment and fun concluded at Ramoji Film City
Bollywood actress Jayaprada and senior director cum actor K Vishwanath were honoured for their valuable contributions to Indian Film Industry
Business honchos, professionals and organizations in Marine, Medical, Media, Entertainment, Education, CSR, IT, Hospitality and Built in India were also honoured
Hyderabad (09:12:2017): Saawan, directed by Farhan Alam, won the coveted All Lights India International Film Festival (ALIIFF) Golden Frame Awards for the best feature film. The movie shot in Pakistan was produced by USA-based Kalakar Films. While The Loudest Silence from Brazil, helmed by Marccela Moreno, was adjudged as the best student short film. In Return: Just A Book from India, filmed by Shiny Jacob Benjamin, was declared as the best documentary. National award winner Surabhi Lakshmi earned honourable mention for her performance in the movie Minnaminungu, directed by Anil Thomas.
The award comprising of cash prize, a certificate and a trophy were distributed to the winners by the juries and Indywood Founder Director Sohan Roy at the valedictory function of third edition of Indywood Film Carnival held at Princess Hall, Ramoji Film City, on 4th December.
130 movies were screened at the third edition of ALIIFF, of which 68 movies were part of the competition segment. The categories included Feature Film, Debut Director's Film, Indian Film, Short Film, Student Short Film and Documentary. The competition saw the intense participation of leading film makers and technicians from 50 countries. The festival awarded a NETPAC award too.
Other award winners and their respective categories are given below:
Take The Reins (USA), directed by Emma Barrett (The Best Short Film), Railway Children filmed by Prithvi Konanur (Best Indian Film), Hidden Corner (India), directed by Jaicheng Jai Dohutia (NETPAC Award for The Best Asian Film), Chudala (India), filmed by Maaria Sayed (Honourable mention in The Best Short Film), Daniel Ortega (Honourable mention in for Cinematography in 2001: While Kubrick Was In Space).
The jury panel was headed by Dr. Bijukumar Damodaran (India). Other members were Amir Muhammed (Malaysia), Axel Estein (Germany), Matthew Helderman (USA), Bassam Mohammed Al Thawadi (Bahrain), Jun Robles Lana (Philippines), Marianne Borgo (France), KNT Sastry (India), Nawaf Al Janahi (Abu Dhabi), Doo Yong Lee (South Korea), Soo Sung Lee (South Korea) and Hassan Nazer (Iran).
Mega carnival concluded
Indywood Film Carnival, the biggest fiesta of entertainment and fun in the country, was concluded at Ramoji Film City, the world's largest film studio, on 4th December. The mega carnival, organized by 10 billion US dollar Project Indywood, witnessed the launch of the Indian Billionaires Club which was attended by 50 billionaires from more than 100 countries, the Indian launch of Heera T10 cricket league, the new sensation in cricket. In addition to this, panel discussions, workshops and exhibitions for imparting accelerating the growth of entertainment industry and nurturing talents were held.
UAE-based NRI industrialist Sohan Roy spearheads Project Indywood which is being promoted by 2000 Indian billionaires and corporates. Sohan Roy who is also the Chairman and CEO of UAE-based Aries Group aims at initiating 10,000 new 4K projection multiplex screens, 100,000 2K/4K projection home cinemas, 8K/4Kfilm studios, 100 animation/VFX studios and film schools conforming to international standards.
Honour for film legends
Bollywood actress Jayaprada and senior director cum actor K Vishwanath were honoured for their valuable contributions to Indian Film Industry.
Thorir Ibsen, Ambassador, Iceland Embassy, In Jae Kim, Seoul City Governor (South Korea), National award winning Action Director Peter Hein and National Award winning art director Sabu Cyril, Cinematographers S Ravi Varman, Priya Seth and K. K. Senthil Kumar are some of the prominent personalities whom attended the carnival.
Top business honchos, professionals and organizations in Marine, Medical, Media, Entertainment, Education, CSR, IT, Hospitality and Built in India were honoured for their constant efforts and innovative ideas to elevate the standards of the each sector.
Baahubali sweeps awards
Indywood Film Carnival also honoured top trade achievers with international trade awards. The magnum opus movie – Baahubali, directed by S. S. Rajamouli, swept five awards including India's Pride Award which was shared with Dangal for bringing international fame to Indian movies.
Rs 10 crore business enquiries
Indywood Film Market (IFM) expo for networking with major stakeholders in the film industry was also held as part of the carnival. The expo has given a market fillip to Indian Film Industry by generating trade enquiries from foreign and domestic markets worth Rs 10 crore. Leading technology providers, production agencies, distribution theatre owners participated.
Pool of talented youngsters
More than 2000 youngsters from various parts of the country exhibited their talents at Indywood Talent Hunt. The competitions were held in 22 categories including short film, music, dance, still photography, advertisement, educational video, documentary film, animation character, drama, poster designing, dubsmash, performance art, film quiz, online promotion, music album, DJ, children's short film, best reporter or journalists, RJ hunt, VJ hunt, film club and model hunt. The winners were rewarded with top-notch 3D tab manufactured by UAE-based Aries Epica, cash prize, a certificate and a trophy.

Former Miss India Simran Ahuja anchored the inaugural ceremony of Indywood Talent Hunt. Eleven juries and guests from various parts of the world were present which included Soo Sung Lee (film director), Axel Stein (Film curator, Germany), Nawaf Al Janahi, K.N.T Sastri, Marianna Borgo, Amir Muhammed (writer and movie maker, Malaysia), Bassam Mohammed Al Thawadi (film producer and director), Nassan Nazer, Laurie Gordon (animation artist), June Robles Lana and Sarath Chandu (film artist).
Fashion TV marked their presence at Hyderabad by conducting a pageant show at the third edition of Indywood Film Carnival. Rushali Yadav and Sameer Qureshi won the prestigious Face of India title after competing against thousands of contestants from various parts of the country. While Muskaan Bisaria and Sachin Hadpad emerged as the first runners-up and Varsha Choudhary and Divyam Budhuri became second runners-up. Face of India title winner will get direct entry to Asia Model Festival to be held in South Korea and stand a chance to win a feature film contract.
---