UAE-based Aries Group's Indywood Consortium initiated USD 10 billion investment in India and Middle East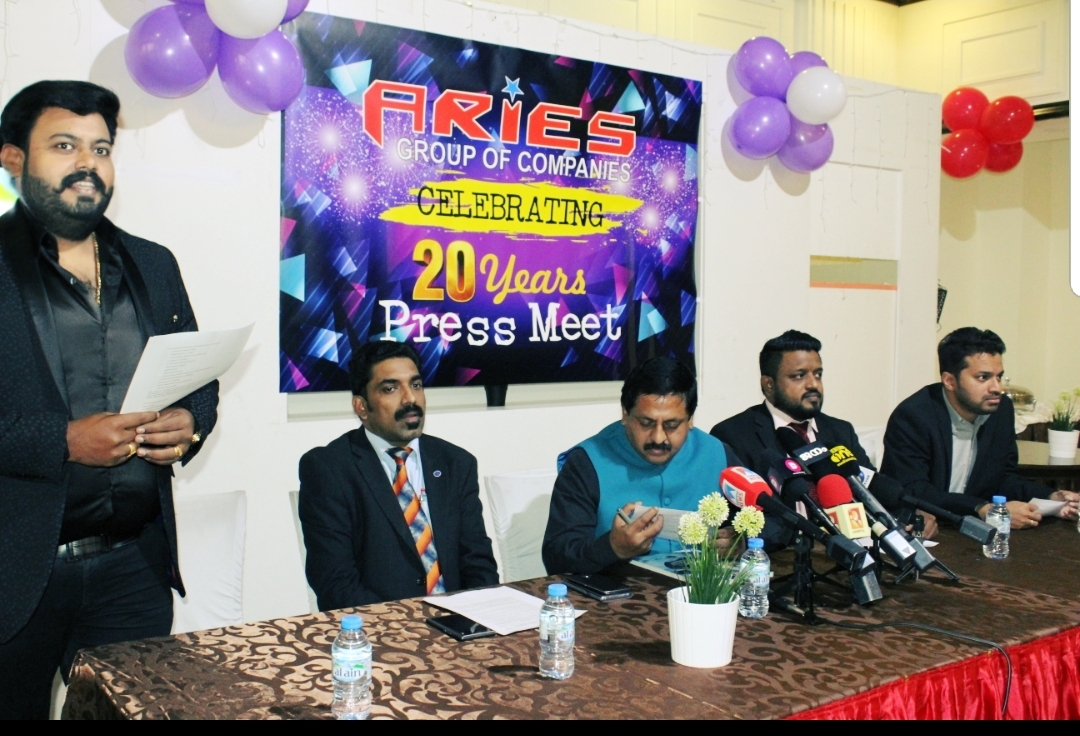 The group unveils Vision 2020; To double the presence in marine, tourism and entertainment sectors
Prime focus in building top notch multiplex screens, home cinemas, animation/films schools, film production and organising film festivals
The investments will lead to the generation of employment for 1,00,000 people in 5 years
NRI tycoon Sohan Roy spearheads Aries Group, one of the largest multinational conglomerates in Middle East. The group operates 47 companies in 15 countries
The group will expand its operations in Malaysia, Singapore, Africa, China and Europe
Dubai: The UAE-based Aries Group's Indywood Consortium has initiated USD 10 billion investment in India and Middle East as part of Vision 2020 said Aries Group Chairman and CEO Sohan Roy. He announced investment while addressing the media persons here on Sunday.
"We will increase our market share in marine, tourism and entertainment sector by 2020. In entertainment, we will set up top notch multiplex screens, home cinemas, animation/films schools in India and Middle East. We will invest USD 10 billion in the next five years and it would generate 1,00,000 job opportunities. The details of other ventures will be announced soon," said Sohan Roy.
In addition to this, the group will produce international movies using advanced technology and worldwide distribution. "We will promote young talents through movies and it would be a golden opportunity for them to showcase their talents," said Roy who is also a Hollywood Director.
The Indywood consortium initiated by Aries Group is an umbrella network connecting 2000 influential and wealthy individuals with the latent potential of India's multi-billion dollar film and entertainment sector. Several leading industrialists from across the globe are already members of the consortium, which was launched recently Hyderabad under Project Indywood
The Agenda
The consortium plans to produce 1000 movies over the next 5 years, with added focus on the Indian animation and television industry. Integrated dubbing centres and film schools are also part of the process to ensure the readiness of highly skilled talent when it's time to shoulder the impending cinematic revolution. Through all this, the consortium aims to ensure efficient monetization of Indian cinema's potential and raise its share in global cinema to 40%.
Work has also begun on multi-format cinematic infotainment programmes such as educational content and sporting events that will redefine the theatre sector and make it an avenue of visual entertainment 24x7. Further, several mega film and theatre projects have already been announced by future members of the consortium including India's most expensive movie- the Rs. 1000 crore Mahabharata, and the world's 1st 8K multiplex project at Udupi. Work on other similar multiplex projects in India has also been started.
The consortium further aims to add 1000 8K Screens in India by 2020, with the capacity to make, screen and show this high end format across the country and abroad. The zeal of the consortium has been recognized by cinema powerhouses such as South Korea, Nigeria, Iceland, Czech Republic and even non-cinema nations such as Saudi Arabia, who have acknowledged the value of film tourism and a global cinematic movement led by Indywood.
The consortium hopes to inspire more investors to invest in the country's cinema industry and manufacture indigenous products for the local industry.
To mark the 20th anniversary celebrations, Aries Group has chalked out various CSR and Sustainable energy campaigns. "We will organise awareness campaigns and seminars in association with various corporate, NRI associations, self-help groups etc to promote the importance of CSR and sustainable energy," said Satheesh Chandran, Director of Aries Group.
Aries follows integrated management system (IMS) certified by ISO 9001:2008, 29001, 14001 and OHSAS 18001 and constantly strives to meet HSE requirements and equipment condition monitoring to lessen the likelihood of failure. Aries Group's management policies on job security, retirement plans & parental welfare ensures higher staff commitment and ultimately complete customer satisfaction.
'Corporate Social Responsibility' is a vital part of any business organization, and Aries Group of Companies strongly believes in serving the society in which it thrives. Through years the company has been serving its society through its various CSR activities including Green initiatives, Charity Activities and encouraging young talents through scholarships to further their studies.
Some of the major initiatives which Aries Group has supported over the years include:
Produced the world's first Charity movie - Jalam. A charity movie is entirely a new concept in film production. Contribute a brick is the motto of this film. The complete profit from the film was used for the rehabilitation of the landless people and to support women empowerment programs.
Relief work in the flood affected areas in Chennai, India
Nepal rescue operations contributing one day's salary of all Aries employees for rehabilitation of earthquake victims
Parent pension scheme for employees
Pension to retired employees
Adoption of 10 Ekal schools in India to provide free education to students from remote villages
Charity works of earthquake and Tsunami sites
Aries educational scholarships
Charity drive for the welfare of families of mariners through a non-profit organization-IMC (International maritime Club)
Implemented the creative management principle of making the company as a Aries Group to share 50% of its profit with the employees to make them more responsible and committed.
Green Initiatives- Aries has made Green thinking as part of the company's business agenda. Aries pushes ahead with several measures to reduce the carbon foot prints, and strives hard to achieve a paperless operation
Directed Dams – the Lethal Water Bombs, a sustainability documentary providing scientific explanation on the disastrous nature of the Mullaperiyar Dam and the possible natural disaster inherent in the structure
Conducts Aries Talent Hunt yearly where more than 2000 talented individuals participate to get their talent recognised in the industry
Initiated Save our Children Campaign to curb child trafficking
Aries Marine, the flagship company of Aries Group and the largest Ship Design and Consultancy firm in the Middle East, was established on 28 March 1998.
As the company crosses a remarkable milestone of 20 years, its legacy has been imprinted in a variety of sectors that has been made possible by a visionary, forward looking leadership and ably by its most precious asset, the loyal and dedicated employees, who form the "Aries Family"
Here is a glimpse of Aries Family's remarkable journey, in a 'Nutshell':
World's No: 1 Brand in 5 fields
Middle East No: 1 in 10 fields
The No.1 Design / Inspection firm in Middle east
47 offices in 15 countries
39 Core divisions and 78 Sub divisions
44000 projects completed
1600 Employees
16000 manhours per day
1 Guinness Entry, 23 Oscar contentions, 127 International Recognitions
25 national and International accreditations
4750 clients in 77 Countries
1050 employee family members with pension
5760 Aries family members
Aries Group has now grown tremendously into a multinational conglomerate of 47 independent firms branches in 15 countries namely UAE, Qatar, Bahrain, Oman, Saudi Arabia, Kuwait, Azerbaijan, China, India, Singapore, Malaysia, USA, UK, Russia and Italy. The diversified group has presence in oil and gas, offshore, media, medical, entertainment and tourism sectors.
---