Indywood honored Journalists in Kolkata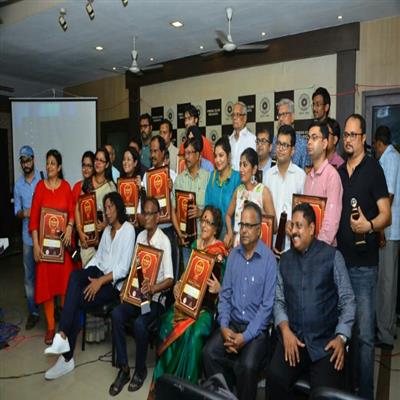 Indywood, a 10 billion US dollar project which aims at elevating Indian film industry to a global platform, has honoured prominent Kolkata-based journalists from print, visual, online and radio media by conferring prestigious Indywood Media Excellence Awards for their valuable contributions and constant efforts to uplift film and media industry. The awards were distributed at an event held at Kolkata Press Club on 5th May 2017.
The prestigious Lifetime Achievement Awards were awarded to Shoma A Chatterjee (freelance journalist, film scholar and author) and Indraneel Mukhopadhyay (senior journalist and poet).
Special recognition was awarded to Supratik Sen (PTI), Snehasis Sur (Doordarshan), Sougata Mukhopadhyay (CNN News18), Tapas Kumar Sarkar (Sambad Akhon), Kanishka Dasgupta (Flight Mode) and Ritwik Mukherjee (Financial Chronicle). Meanwhile Prabirkumar Ray (senior film journalist), Nirmal Dhar (senior film critic) and Debasish Sengupta (Kolkata TV) got special appreciation from Indywood.
While delivering the inaugural address, Indywood Film Carnival Founder Director Shri Sohan Roy announced that 3rd edition of Indywood Film Carnival 2017, one of the largest film-based events in the country, will be held at Ramoji Film City, Hyderabad, from December 1 – 4, 2017.
"The third edition of the film carnival will be a mammoth one in terms of participation of national and international delegates. The event offers interactive sessions with the eminent filmmakers from across the world, networking opportunities and entertainment programs," he said.
Noted film director cum cinematographer Goutam Ghose presided over the function. Arijit Dutta, Managing Director of Priya Entertainments, Chandan Sanyal, Treasurer of Bengal Film Journalists' Association and Pulak Mukherjee, Executive Member, Eastern India Motion Pictures Association spoke on the occasion.
Actress Dolon Roy, Firdausul Hasan, President, Bengal Film and Television Chamber of Commerce and Niloy Kanti Biswas, Creative Director of Animatzione Studio were present on the occasion.
Indywood Media Excellence Awards shall be conducted in all major cities across the country to honour and appreciate the commendable work of media professionals.
Other recipients of Indywood Media Excellence Awards are:
Professional Excellence
Kamlesh Pandey (Sanmarg), Biplab Bose (Uttarbanga News), Hindol Goswami (Bangla YourStory.com), Poorna Banerjee (Presented by P), Tapas Kumar Sengupta (News X), Nirmalya Bandopadhyay (ANM News), Chitradeep Chakraborty (EI Samay), Suman Adak (Aaj Tak), Pallab Kumar Chatterjee (Bartaman), Dr. Mrinal Chatterjee (Head and in charge, Indian Institute of Mass Communication), Prof. Subir Ghosh (Principal, Bharatiya Vidya Bhavan Ashutosh College of Communication and Management)
Honorary award for promotion of good cinema
Amitava Nag (Editor, Silhouette Film Magazine)
Film Journalism
Debjani Laha Ghosh (News Time), Srovonti Bandopadhyay (Ananda Bazar Patrika) and Soumita Mukherjee (Kolkata TV)
Honorary award for film promotion-Visual
Sharmila Maiti (Zee 24 Ghanta Channel)
Honorary award – for Online Film Publishing
Sujoy Dhar (India Blooms)
Kaushik Banerjee (Angel Digital Pvt Ltd)
Priyanka Dutta (Sholoana Bangaliana)
Best producer-Visual
Rakesh Naskar, R Plus
Best producer-Radio
Amartya Mukhopadhaya, Radio Mirchi
Best anchor-Visual
Ankur Bhattacharyya, Newstime Bangla
Professional Excellence in Media Marketing
Karan Nagra, Radio Mirchi
Youngest Achiever on Digital Platform
Sonam Kochar (ANI)
For more info on Indywood Media Excellence Awards, visit indywood.co.in/mediaawards
To know about Indywood Film Carnival, visit indywood.co.in
To know about Founder Director's profile, visit sohanroy.com
---