Aries Group to produce 2nd movie under Indywood banner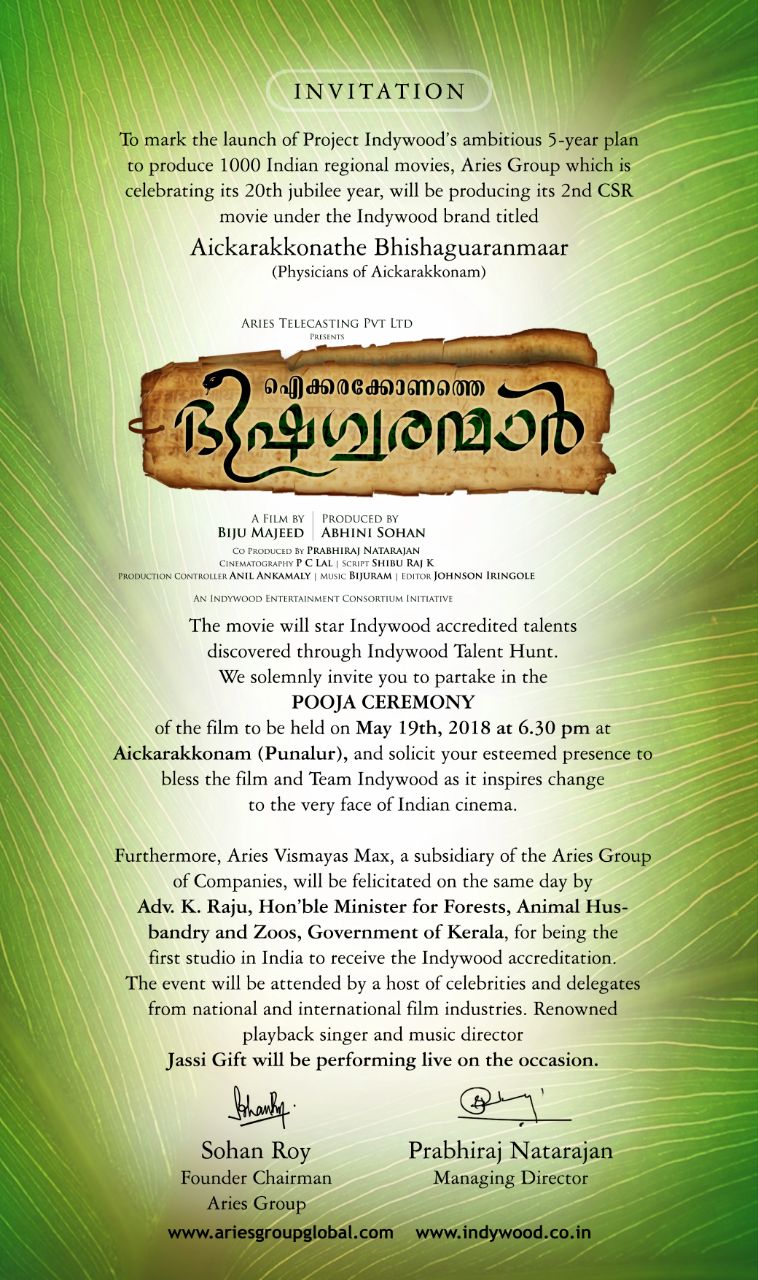 To mark the launch of Project Indywood's ambitious 5 year plan to produce 1000 Indian regional movies, Aries Group which is celebrating its 20th jubilee year, will be producing its2nd CSR movie under the Indywood brand titled "AICKARAKKONATHE BHISHAGUARANMAAR" (Physicians of Aickarakkonam).
The movie directed by Biju Majeed and produced by Abhini Sohan, co-produced by Prabhiraj Natarajan. Cinematography - P C Lal, Script - Shibu Raj K, Production Controller - Anil Ankamaly, Music - Bijuram, Editor - Johnson Iringole.
The movie will star Indywood accredited talents discovered through Indywood Talent Hunt. We Solemnly invite you to partake in the POOJA CEREMONY of the film to be held on May 19th, 2018 at 6:30pm at Aickarakkonam (Punalur), and solicit your esteemed prsence to bless the film and Team Indywood as it inspires change to the very face of Indian Cinema.
Furthermore, Aries Vismayas Max, a subsidiary of the Aries Group of Companies, will be felicitated on the same day by Adv. K. Raju, Hon'ble Minister for Forests, Animal Husbandry and Zoos, Govt. of Kerala, for being the first studio in India to receive the Indywood accreditation.
The event will be attended by a host of celebrities and delegates from national and international film industries. Renowned playback singer and music director Jassi Gift will be performing live on the occasion.
---