Bahubali 2: Aries Plex on a roll; Crosses Rs. 3 crores in 51 days !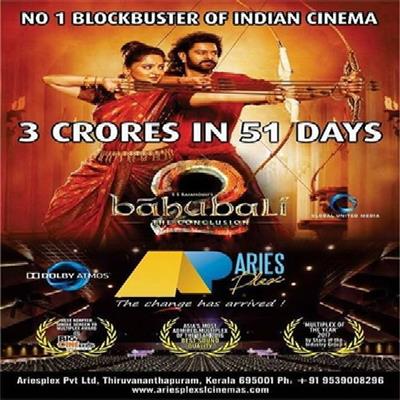 Aries Plex is the only dual 4K cinemas in the country which generated record revenue for Bahubali series. Bahubali team had acknowledged Aries Plex as the best screen in the country to watch the magnum-opus movie.
Trivandrum-based Aries Plex, promoted by Aries Group as part of Project Indywood, is on a roll. Ariex Plex which has created numerous milestones in the name of Bahubali movie has crossed more than Rs 3 crore for Bahubali-The Conclusion in 51 days.
Bahubali: The Beginning directed by S. S. Rajamouli had also collected more than Rs 3 crore when it was released on 10th July 2015. It is expected to cross 5 crore mark this time for sure with the repeated audience to experience the ultimate beauty of 4K version again and again. "Even people from other states have started coming to experience 4K Bahubali on wide screen at Trivandrum. Considering the huge demand we are planning to run atleast one show throughout the year for promoting 4K & Film Tourism. Aries Plex is just a sample and India will have 2000 such 4K high end multiplexes across the country by 2020 as part of Project Indywood," said Sohan Roy, Chairman of UAE-based Aries Group.
Aries Plex, one of the largest cinemas in India, has a seating capacity of more than 1500 (700 seats for Audi 1 dual 4K Atmos) with six screens. Even the re-release of magnum-opus Bahubali 1 got a rousing reception at Aries Plex due to its quality projection 80000W sound in ATMOS.
Sohan Roy who is also the Founder Director of Indywood said that moviegoers never get a chance to experience 4K movies in its original quality due to the substandard condition of studios and theatres. "As a solution to this, we floated Indywood consortium comprising 2,000 Indian billionaires and corporates. The Rs. 70,000 crore project aims at initiating 10,000 new 4K projection multiplex screens, 1,00,000 2K projection home cinemas, 8K/4Kfilm studios, animation/ VFX studios and film schools conforming to international standards," he said.
"Indywood means Unified Indian Film Industry and we are planning to expand our operations across the country by the end of 2018. Indywood's vision is that big budget movies like Bahubali should generate Rs. 2000 crore from Indian market alone in future and through Aries Plex at a small city we have proved that people will rush back to theatres to make it happen if we deliver quality products on high quality screens," said the Oscar qualified film maker and Forbes listed billionaire Sohan Roy.
---