Indian Film Director, Anubhav Sinha joins with Indywood Film Carnival as Advisory Panel Member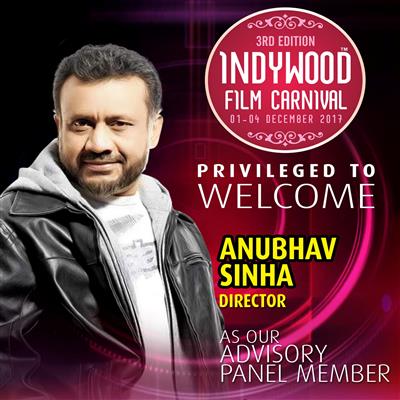 Anubhav Sinha is an Indian film director known in particular for his recent work as a director in the Bollywood film, "Cash" (2007) and ShahRukhKhan starrer "Ra.One"
Born on 22 June 1965 in Allahabad to Prem Govind Sinha and Sushila Sinha. Went to school in Kalagarh, Garhwal, Government Inter College, Allahabad and Queen's College, Varanasi.
He worked as an assistant director to Pankuj Parashar until 1994 before branching out as an independent director with some episodes of a TV show for Zee TV. The work that got him noticed was Shikasht the flagship show of the TV Network "In Mumbai". Three years and 75 music videos later in 2000 he retired from the much embellished throne of The Music video Mughal to start his first deature Tum Bin. 13 July 2001 saw the release of his first feature with one of the biggest films of the year, Aks also released on the same day.
His third film, the multi-starrer Dus, had the biggest opening weekend for the year 2005. This was followed by Tathastu (2006) and Cash (2007). Ra.One a Highest Budget of ₹1.8 billion (US$28 million) movie, released on diwali of 2011, was considered a much awaited film of 2011
Sinha is founder and owner of Benaras Media Works, the production company he established in 2012 to produce his film and television projects.
Indywood Film Carnival proudly announces Anubhav Sinha, Indian Film Director as our Advisory Panel Member.
---