Indywood Music Excellence Awards – Kerala Chapter will be held at Cochin on 25th July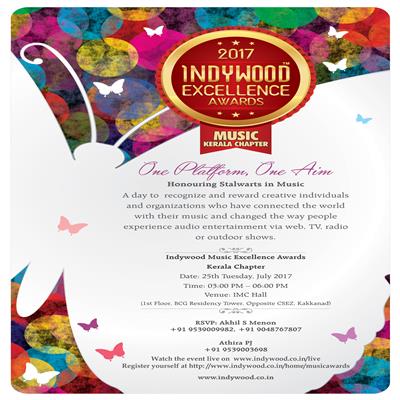 It is with extreme delight that I invite you to the prestigious Indywood Music Excellence Awards – Kerala Chapter that shall be organized at IMC Hall, Cochin on 25th July 2017 (Tuesday). Music Industry has shaped the history of entertainment as we know it. From being a form of expression to evolving as a cultural call for change and revolution, music is an integral part of every living being created by nature. As humans, we are born listening to lullabies in our mother's wombs, carry the tune into the physical world and make our own musical variations, even if casually, as we grow up.
Indywood Music Excellence Awards aims to recognize and reward creative individuals and organizations who have connected the world with their music and changed the way people experience audio entertainment via web, TV, radio or outdoor shows.The winners of the award ceremony shall be selected by an eminent panel which includes some highly acclaimed and experienced personalities related to this industry.

This award ceremony is being organized as a part of Project Indywood, a US$ 10 Billion Project initiated by a consortium of 2000 Indian Corporate and Multi-Millionaires .Indywood Music Excellence Awards shall be held from December 1- 4 2017 on a National level, at the world's largest film studio, Ramoji Film City, Hyderabad. Project Indywood, is a revolutionary step initiated to revamp the entire Indian film industry in the next 5 years. Designed truly in line with honorable Prime Minister of India Narendra Modi's 'Make in India' policy, Indywood aims to integrate the fragmented Indian film industry and envisage Innovative technology applications, world class infrastructure and new business models to bring about sweeping and revolutionary changes in the production, screening and marketing strategies as well as the business model of the Indian cinema.
The event will be broadcasted Live, which will be watched by many decision makers and reputed professionals across the world.
Awaiting your entry for further proceedings and looking forward to your support and cooperation in making the event a success.
---