Indywood Honoured Talents, Professionals and Companies in Music Industry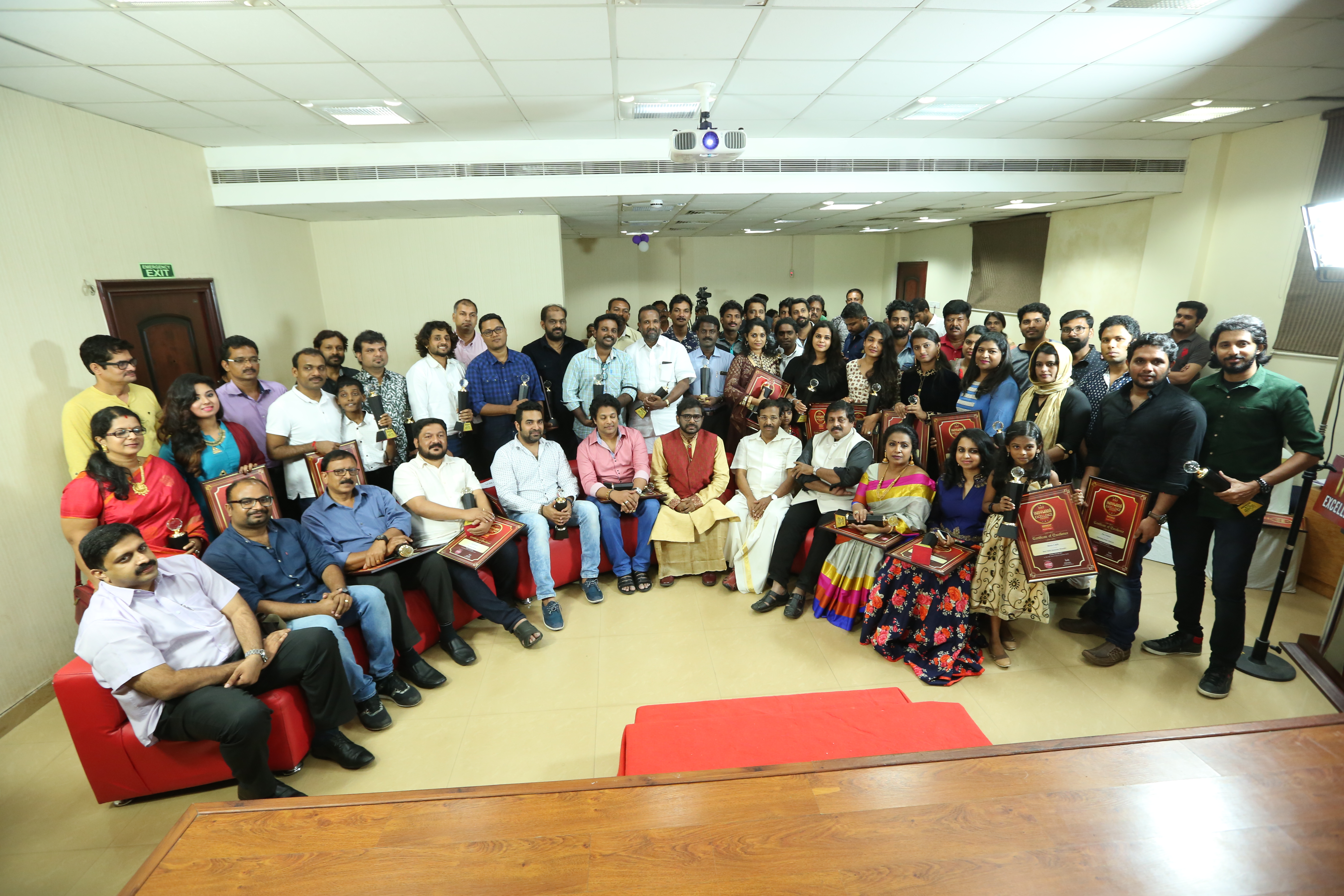 Kochi: "Music is an integral part of our life, culture and emotions. It integrates the nation irrespective of socio, economic, cultural and religious differences. our Indian culture. We cannot imagine a day without music. Though Indian Music Industry has its own unique identity and magical power, it has not been fully utilised yet. Indian Film Industry, one of the leading film markets in the world, should come forward to tap the global market for music," urged Hollywood director Sohan Roy.
He emphasized that professionalization of Indian Music Industry is the need of the hour. "Indywood will take a lead role in professionalizing the industry by setting up a strong foundation for music clearance, royalty, anti-piracy and copyright," he said.
While delivering the inaugural address, Mathrubhumi Group Director and film producer Mr. P. V. Gangadharan said that the Indian Music Industry which is blessed with talented music directors, singers, lyricists, studios, sound mixers etc needs to be organized and should focus more on international projects. "We have been following the traditional marketing pattern for music for years. We should innovate and explore the global market for music which is huge", he said.
He added that to compete with Hollywood movies, Indian Film Industry should concentrate more on technical aspects and develop a good ecosystem i.e. from film making to cinemas. It is high time to adopt innovative making style and distribution methods to attract global audience. For instance, use of advanced Cameras, Studios, projectors, sound equipment, top-notch infrastructure facilities for cinemas, global Subjects, wide distribution network etc is crucial for efficient growth. Upgrading technology according to times is the need of the hour and it will help save lot of time and money," said P. V. Gangadharan who is also the Director of KTC Group.
At a glittering function, Indywood honoured talents, professionals and companies in music industry by conferring prestigious Indywood Music Excellence Awards for their valuable contributions and constant efforts to uplift the industry held at IMC Hall, Kakkanad, on Tuesday. Indywood, a 10 billion US dollar project promoted by 2000 billionaires and Indian corporates, aims at elevating Indian film industry to a global platform.
The prestigious Lifetime Achievement Awards were awarded to renowned music director Mohan Sithara and N Harikumar, a leading sound mixer.
Special recognition was awarded to Ramesh Narayan, Madhu Balakrishnan and Pradeep Somasundaran. Gopi Sunder won Popular Music Director award while Rahul Raj was adjudged as Best Music Director. Film makers Jis Joy and Aneesh Anwar were present on the occasion.
Sohan Roy announced that the 3rd edition of Indywood Film Carnival 2017, one of the largest film-based events in the country, will be held at Ramoji Film City, Hyderabad, from December 1 – 4, 2017.
Other recipients of Indywood Music Excellence Awards (Name and award category):
My Studio (Best Recording Studio), Media Lounge (Best Programming Studio), Melam Karaoke (Best Karaoke Studio), Aries Vismayas Max (Best Film Mix Studio- ATMOS), Riyan Studio (Best Music Restoration Studio), Sumesh Anand Surya (Best Programmer), Kiran Lal (Best Mixing), Sajeev Karippayi (Best Sound Effects), Paul Alens' Audio Engineers (Best Acoustic Studio Design).
Job Kurian (Youth Icon), Najim Arshad (Popular Singer), Sooraj Santhosh (Best Singer-Male), Mridula Warrier (Best Singer-Female), Gowri Lakshmi (Upcoming Singer), Preetha (Best Folk Singer), Nimisha Kurupath (Best Ghazal Singer), Milen Manoj Earath (Best Child Musician-Male), Shreya S Ajith (Best Child Musician-Female).
Sabareesh Prabhakar (Best Trending Artist), Santhosh Varma (Best Lyricist), Haseena S Kanam (Upcoming Lyricist), Vishnu Mohan (Promising Young Musician Award), Harish Sivaramakrishnan (Best Classical Rock Performer), Sobha Sivani (Singer-Malayalam Dubbing Movies).
Rajesh Cherthala (Best Instrumentalist -Wind), Sandeep N Venkatesh (Best Instrumentalist – Percussion), Sumesh Parameswar (Best Instrumentalist – String), Madhu Paul (Best Instrumentalist – Keyboard).
Lets Take a Break (Best Music Album), Masala Coffee (Popular Band), Bindas Bollywood, Red FM (Best Radio Music Programme), Chetana Music Academy (Best Music Academy), Full House Entertainments (Best Talent Agency), Kappa TV (Best Music Channel).
Kuttippatturumal (Best Music Reality Show), Gopi Sundar Music Company (Best Music Production Company), Manorama Music (Best Music Distribution Company), Muzik24*7 (Best Music Label)
Vardhaman Mega Tech (Best Music Equipment (Dealers/Live Sound Gears), Sangeeth Mahal (Best Music Equipment (Dealers/Music Instruments), Yamaha Music India Pvt. Ltd (Best Music Equipments Brand),
Tata Sky Karaoke (New Innovation for Music Industry), Anil Johnson (Best BGM Director), The 4 Musics (Upcoming Music Director).
Nikhil M Balakrishnan (Indywood Talent Hunt – Musician Of the Month)
---