Indywood launches ambitious project to brand Trivandrum as Capital of Film Tourism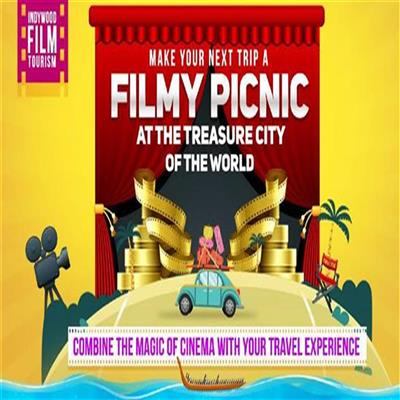 With a mission to make Thiruvananthapuram as the capital of film tourism by tapping the immense potential of film and tourism sectors, 10 billion US dollar Project Indywood has launched an innovative, socially committed project exclusively for the city.
The tour package introduced by Indywood Film Tourism titled Travancore Treasures (Ananthavismayam) package offers a visit to prominent film tourism destinations in the city; One and only one dual 4K cinemas Aries Plex, Aries Vismayas Max Studio, Guinness Book of Records holder Aries Guinness Chundan, world's longest steel-made snake boat, Magic Planet, shooting locations etc.
Aim global branding
"Film and Tourism are an integral part of our life, culture and emotions. It integrates the nation irrespective of socio, economic, cultural and religious differences. We cannot imagine a day without film and tourism. Indywood intends to create a new market which is beneficial to the state by blending the immense potential of film and tourism sectors. The venture will be a boon for enterprises and entrepreneurs in film, hotel and tourism industries," said Sohan Roy, Hollywood director and Chairman cum CEO of UAE headquartered Aries Group.
He was delivering the inaugural address at a function held at Trivandrum Press Club on Monday.
"Even people from other states have been coming to experience 4K Bahubali on wide screen at Trivandrum. Considering the huge demand we are planning to run at least one show throughout the year for promoting 4K Film Tourism. Aries Plex is just a sample and India will have 2000 such 4K high end multiplexes across the country by 2020 as part of Project Indywood. Global branding of Thiruvananthapuram city and promotion of 4K film tourism are the key objectives," said Sohan Roy who is also the Founder Director of Indywood.
Novel projects inevitable
Kerala Tourism Development Corporation (KTDC) Chairman M Vijayakumar said that novel projects to augment Malayalam film industry and tourism are inevitable. Apart from identifying new markets, Malayalam film industry also should focus in framing innovative marketing strategies. Such projects will definitely accelerate the growth of the state. For instance the International Film Festival of Kerala (IFFK) is beneficial one. The Kerala Government will encourage projects which blends the power of film and tourism. The government will offer full support and encouragement to Indywood's Travancore Treasures project," he said.
Kerala State Co-operative Tourism Federation Limited (Tourfed) Managing Director Shaji Madhavan said that wonders can be created when two sectors – tourism and film which has huge influence among public are combined. For the betterment of film and tourism, tour operators, hotels, entrepreneurs should come forward. Indywood Film Tourism offers best opportunity and market. Effective steps will be taken to ensure that tourists will be benefitted from this he added.
KTDC Chairman M Vijayakumar launched the official website of Indywood Film Tourism (www.indywoodfilmtourism.com). The website is developed by Thiruvananthapuram based Aries Estrrado. The brochure of Indywood Film Carnival-2017 was also launched on the occasion.
Earlier a special screening of Baahubali-2 in 4K wide screen for prominent personalities in tourism, education, entertainment, information technology and journalists was held at Aries Plex, one and only one dual 4K theatre in the country.
The main objective of Indywood consortium promoted by 2,000 Indian billionaires and corporate is to elevate Indian Film Industry to global platform in the next five years. The Rs. 70,000 crore project aims at initiating 10,000 new 4K projection multiplex screens, 1,00,000 2K projection home cinemas, 8K/4Kfilm studios, animation/ VFX studios and film schools conforming to international standards,"
To know about Indywood, visit; indywood.co.in
To know about Sohan Roy, visit sohanroy.com
To know about Indywood Tourism, visit: indywoodfilmtourism.com
To know about Travancore Treasures, visit:
indywoodfilmtourism.com/travancore-treasures/

---