Indywood Film Carnival host to Face of India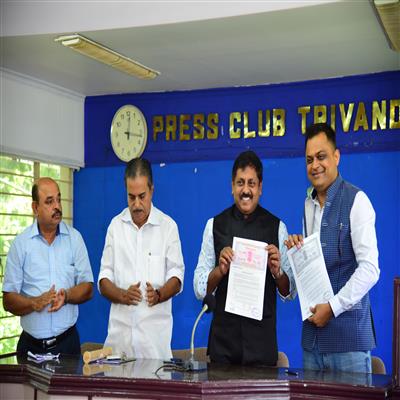 The whole world of fashion, glamour and culture will be watching, as contestants from 29 states all across India will battle each other when Face of India Joins with South Asia's Biggest Film Carnival – Indywood Film Carnival.
Mr Sohan Roy, Founder Director of Indywood Film Carnival and Mr. Badal Saboo, Chairman-Face Of India launched Face of India pageant which is one of the largest and most prestigious platforms in Asia's fashion fraternity.
Indywood Film Carnival – South Asia's Biggest Film Carnival is all set to host the film fraternity from all over the world at Ramoji Film City – Hyderabad from 1st to 4th of December.
Face of India is a part of KMA which is an affiliate of Ministry of Culture & Tourism, Republic of South Korea, KMA is a non-profit organization established in 1976 for the purpose of promotion and protection of Models' rights & interest and related business. There are 27 participating countries namely: UAE, Sri Lanka, Nepal, Mauritius, Mongolia, Korea, Philippines, Malaysia, Myanmar, Indonesia, Kazakhstan, Uzbekistan, Kyrgyzstan, India, China, Hongkong, Thailand, Japan, Vietnam, Cambodia, Taiwan etc. KMA has been organizing Asia's largest Model Festival called Asia Model Festival for past 11 years.
The Previous seasons of FOI turned out to be a grand success and were widely appreciated, and this time along with the Association of Indywood Film Carnival, Face of India strives to bring the best of opportunities for aspiring models from all over the country.
Based on the talent and country-wide voting, female and male contestants will be selected for the final round and Mr and Ms Indywood will be chosen. Also There will be a fashion contestant between all the film industries in India.
Partners:
World Fashion Week an internationally acclaimed event and network for trade and fashion professionals, the annual event provides a forum for worldwide exposure and recognition, where leading and emerging fashion designers from around the world participate in an elaborate showcase of world fashion and trade, celebrating cultural diversity, while promoting world tourism and lifestyle Destinations.
KMA( Korea Model Association) KMA is an affiliate of Ministry of Culture & Tourism, Republic of South Korea, KMA is a non-profit organization established in 1976 for the purpose of promotion and protection of Models' rights & interest and related business
Asia Model Festival In order to let the world know about Asia's models and business related to fashion and beauty and to introduce worldwide brands and artists in Asia, Asia Model Festival has been developed as the core icon of Asia's culture industry and a global culture platform

---