Reality Show vs Live Contest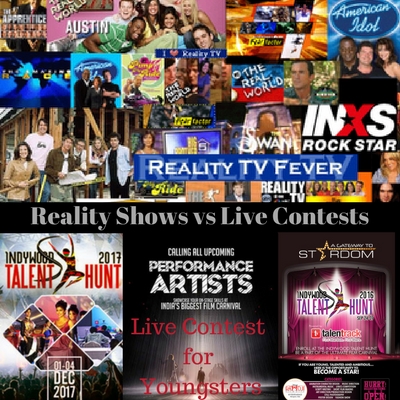 We live in an age of instant gratification. Short term fame with short term gain; the buzzword is NOW and not LATER. Reality shows have found acceptance among a mass section of the Indian community particularly because they adhere to this norm. As each episode get aired, contestants get instant fame, while also inching closer to a life of eternal recognition.
But there's something that promises instant fame even more than reality shows. And they are live contests. Conducted as part of mega events and exhibitions, such live shows mostly cover events such as beauty pageants, dance competition, or some other performance art. They promise good rewards, and give the contestants a chance to get noted by celebrity judges and corporate members sitting amidst the crowd.
In India, at any given point of time, atleast 5 live contests are conducted on a daily basis. Many of the winners have gone on to compete on the global stage, or been plucked by national and international talent agents. From State level to countrywide youth festivals, chances are aplenty.
India's flagship talent discovery event, the Indywood Talent Hunt, has already seen several of its past contestants touch dizzying heights. A stepping stone to a great career in films and entertainment sector, ITH is into its 3rd edition this year. Most importantly, it is held at Ramoji Film City, the Mecca of Indian film shooting. This in itself guarantees the presence of top film celebrities, social influencers and performance artists at the event.
So come, celebrate the culture at the event that really matters. Even more than a reality show.
To know more, visit: indywoodtalenthunt.com/
---