Indywood Film Carnival is glad to associate with the 4th edition of Face of India in Ramoji Film City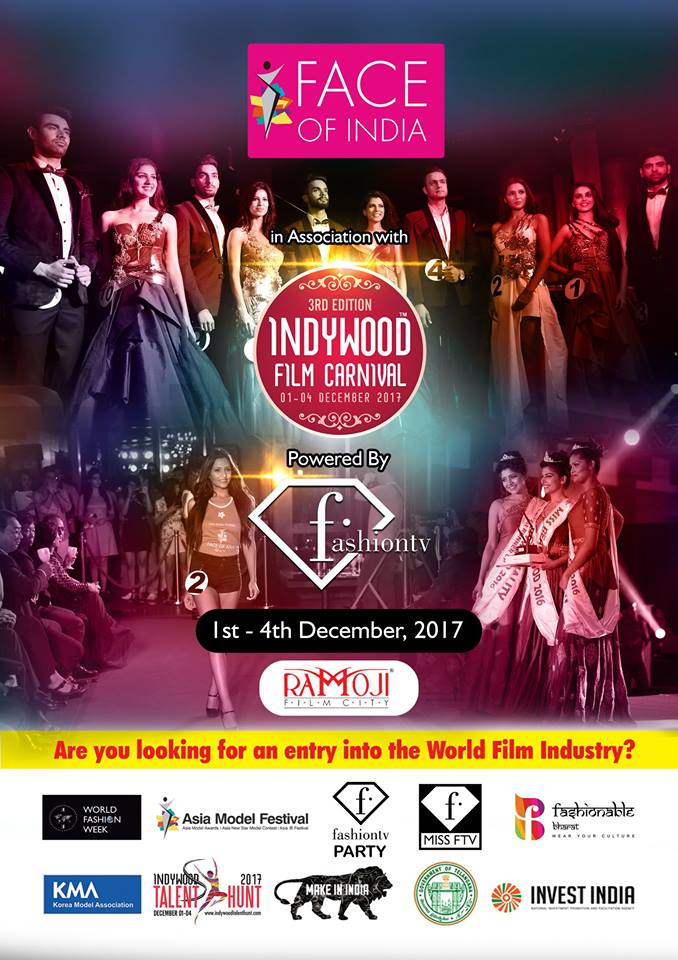 FACE OF INDIA in association with Indywood Film Carnival !!
Best chance to kick start your career in the fashion industry
First ever global event to showcase your unique talent to the world
Theincrediblesteppingstonetostardomwhichwillopennew avenues for your modelling career
Unbelievable opportunity to personally meet the most eminent
personalities in the international fashion fraternity
Glamorous platform where we make it possible for your modelling
dreams to come true. Face of India serves as a wonderful platform
for upcoming talent who otherwise would not have a chance to showcase themselves. Thisisa 'NOW ORNEVER' opportunity for you to showcase your incredible potential to the world and reach for the stars.
Face of India is a wing of Asia Model Festival, the largest and most prestigious platform in Asia's fashion fraternity. More than 3800 aspiring models from all over the country had registered during the digital registration drive for FOI,
through the website faceofindia.in.
Based on their talent and country-wide voting, female and male contestants were selected for the final round. Winners of the country finale represented India and competed with 27 other Asian countries for ASIA MODEL FESTIVAL 2018, at South Korea.
Face of India is associated with Korea Model Association, an affiliate of Ministry of Culture & Tourism, Republic of South Korea, KMA is a non-profit organization established in 1976 for the purpose of promotion and protection of Models' rights & interest and related business fo past 11years. There are 27 participating countries such as Nepal, SriLanka, UAE, Bangladesh, Mauritius and many others.
Face of India, strives to bring the best of opportunities that the property has to offer in terms of potential business opportunities, direct TG reach & brand positioning.
---