Indywood Honors Telugu Journalists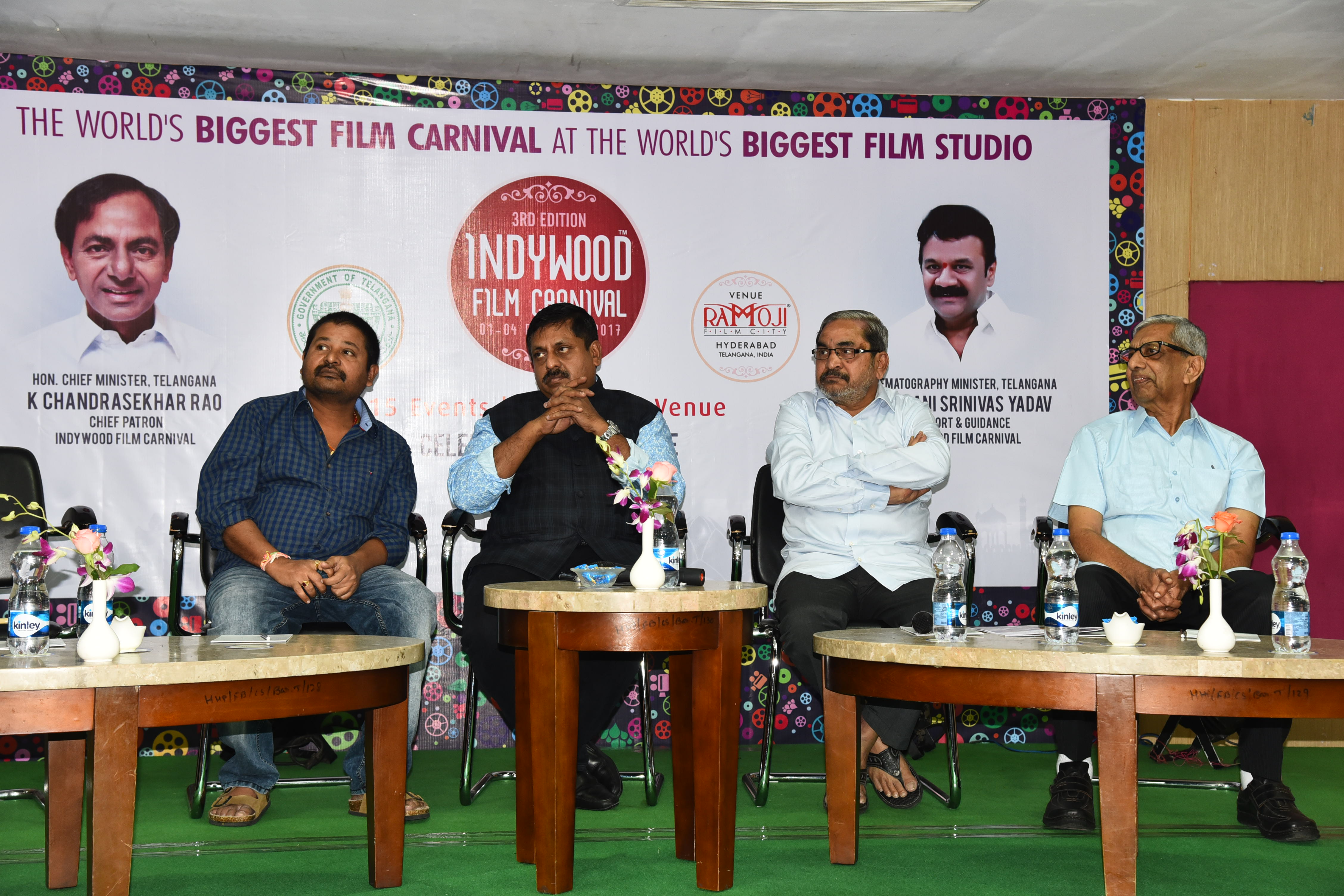 Deserving recognition for prominent journalists from print, visual, online and radio media
Lifetime Achievement Awards were awarded to A.V. N. H. S. Sarma, Khaja Quayum Anwar, Anandam Pulipalupula and Jayadeva Rentala for their valuable contributions to film and media industry
Indywood plans pan India events to honour journalists for their contributions
Hyderabad: Indywood, a 10 billion US dollar project which aims at elevating Indian film industry to a global platform, has honoured prominent Telugu journalists from print, visual, online and radio media by conferring prestigious Indywood Media Excellence Awards for their valuable contributions and constant efforts to uplift film and media industry. Allam Narayana, Chairman, Telangana State Press Academy inaugurated the function held at Hotel Plaza near Begumpet on Wednesday.
The prestigious Lifetime Achievement Awards were awarded to A.V. N. H. S. Sarma (Eenadu), Khaja Quayum Anwar (T News), Anandam Pulipalupula (Visalaandhra) and Jayadeva Rentala (Andhrajyothi).
Special recognition was awarded to K Nageswara Rao (UNI), Subbarao Nagabhiru (Andhrajyothi), Rambabu Varma Lanka (Telugu360.com), G Anand Kumar (ETV Cinema), Jalapathi Gudelli (TV 9), P. V. Ramana Kumar (Mahaa News), Ramesh Chandu (Boxoffice Cinema), Krishna Kambalapally (TNN News), A. Raja Babu (Oneindia.com), R S J Thomas (Photo Journalist), P. R. K. Prasad (Andhraprabha), Kranthi Kiran (TV 1), U Srinivas (Greattelangaana.com), Munnaluru Maruti Prasad (CNN News), JBS Umanadh (Deccan Herald) and U. Vinayaka Rao (Andhrajyothi).
While addressing the media, Indywood Film Carnival Founder Director Sohan Roy announced that 3rd edition of Indywood Film Carnival 2017, one of the largest film-based events in the country, will be held at Ramoji Film City, Hyderabad, from December 1 – 4, 2017.
"The third edition of the film carnival will be a mammoth one in terms of participation of national and international delegates. The event offers interactive sessions with the eminent filmmakers from across the world, networking opportunities and entertainment programs," he said.
Indywood Media Excellence Awards shall be conducted in all major cities across the country to honour and appreciate the commendable work of media professionals.
Other recipients of Indywood Media Excellence Awards are:
Professional Excellence
Parvathaneni Rambabu (Cinejosh), Duddi Sreenu (Filmytollywood.com), Ramakrishna.S (Eenadu), Phani Kandukuri (NTV), Y. J. Rambabu (TV5 News), D.V. K. Vasudevan (Bol Hyderabad), Nageswararao Somisetti (Sakshi TV), K. Satya Rama Krishna (10 TV News), Ramesh Chinnamula (Zee Cinemalu), M. Chandra Shekar (T News), Suzen Vallabhaneni (Studio News), Sai Sandeep (Times of India), Pavan Survi (www.survi.in), Sandeep Iragavarapu (www.telugucinemas.in), Hemanth Kumar CR (Freelance journalist), Rajkamal (Filmybuzz.com), Nagireddy B (123telugu.com), Vrinda Prasad (Zee Cinemalu), R Krishna Prasad (6 TV News), Vijayanand Keetha (idreampost.com), Srinivasa Rawlo (telugumirchi.com), MHD Parvaiz (Bharat Samachar News Agency), Ratna G Chotrani (PTI and Siasat), Nikhila Henry (The Hindu), V. Durgamba (Andhra Prabha), Rachana Mudumbi (Namasthe Telangana), Amrita Didyala (Times of India), Sathish Dhandaveni (ETV), Ashish.Kumar Pandey (India Today/AAJ Tak), A.S. Joel Kumar (Sakshi TV), AV Madhu (Andhrajyothi), Surekha Abburi (Sahara Samay), Venkata Sriram J (SwayamPrabha), K. Narahari (SK Vartha), K Suresh (V6 Channel), T.V. Kiranmai (Andhrajyothi), E. Venkateswarlu (HM TV), Reddy Hanumanth Rao (Nava Telangana) and K. Rama Narayana Raju (Andhraprabha).
Popular Film Journalist - Print
Coreena Suares (Deccan Chronicle)
Honorary Award for Film Promotion - Print
Manju Kalanidhi (The New Indian Express)
Honorary Award for Film Journalism - Print
Maduri Mattaiah (Namasthe Telangana)
Honorary award for film promotion - Print
Lakshminarayana Ganji (Telugu Film Trade Guide)
Best Producer - Visual
D.G. Bhavani (Sakshi Daily)
Popular Film Journalist - Visual
Amar Vamsi Babu (Gemini TV)
Honorary Award for Film Journalism - Visual
V. Lakshminarayana (NTV)
Best Anchor - Visual
Gorantla Roja (TV5 )
Honorary Award for Film Promotion - Visual
Gandla Sreenivas
Best Video Journalist
Kuchula Kumar (ABP)
Best Entertainment Website
V.C.H.Prameela (Popular TV)
Honorary Award for Film Promotion - Online
Sripal Reddy (Cinemirchi.com)
Best Blogger
F M Salem (Hindi Milaap)
Best RJ - Female
Bhargavi Lavanya (Radio Mirchi)
Best RJ - Male
Chaitu (Red FM)
Best News Agency
M. Lakshmaiah Netha (Express News)
For more info on Indywood Media Excellence Awards, visit indywood.co.in/mediaawards
To know about Indywood Film Carnival, visit indywood.co.in
To know about Founder Director's profile, visit sohanroy.com/
---