Mega entertainment fiesta returns to Hyderabad; Indywood Film Carnival will kick off on 1st December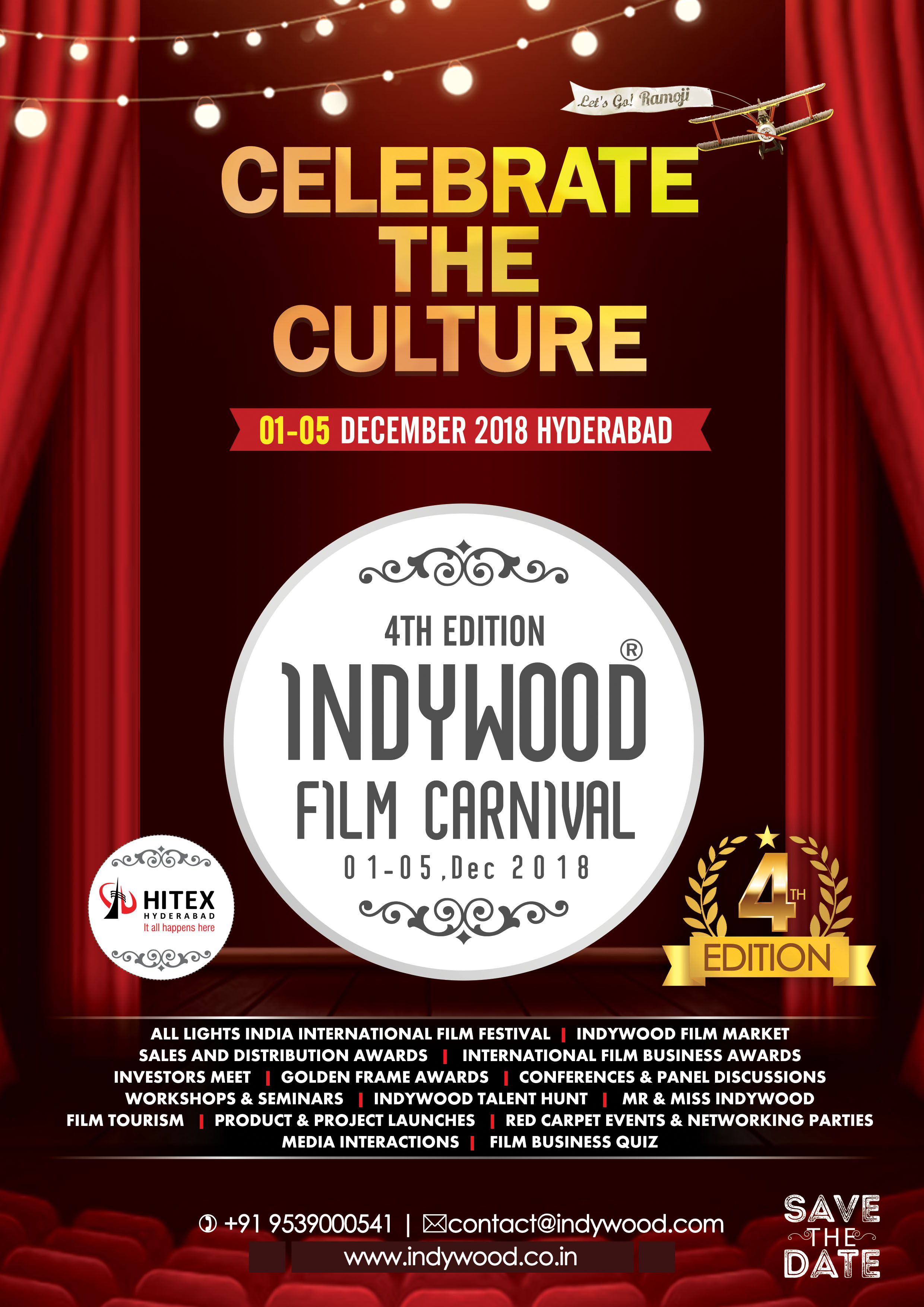 10 billion USD Project Indywood is organizing Indywood Film Carnival
The mission is to elevate Indian Film Industry to the international standard
The fourth edition of Indywood Film Carnival will be attended by over 15,000 high-profile celebrities apart from 5,000 business delegates from over 100 countries
NRI industrialist turned Hollywood film maker Sohan Roy is the Founder Director of Project Indywood
Indywood has secured investments worth Rs 3000 crore from around 20 leading NRI investors
Indywood Film Carnival, the much-anticipated entertainment fiesta of the year, will be held at HITEX convention centre from December 1st to 5th 2018. The Carnival is expected to accelerate the growth of Indian Film Industry through materialising big budget movie projects, co-production ventures and B2B meet generating business worth Rs 500 crore.
The fourth edition of Indywood Film Carnival (IFC 2018), a flagship venture of 10 billion USD Project Indywood, aims to elevate Indian cinema to an international level. IFC 2018 will be a one-stop platform for showcasing the latest technology and future possibilities in the entire spectrum of film making, skill development, pre-production, production, technical support, post-production, distribution, marketing and release among others.
Focus on global projects
Sohan Roy, Founder Director of Project Indywood opined that the Indian Film Industry should come forward to conceive and implement big budget international projects instead of following clichéd subjects and treatment pattern.
"Our country is blessed with talented actors and technicians. However, our film industry is not concentrating on making movies which appeal to the international audience. Bahubali is an exception. The movie industry will fetch huge gains if we increase the number of international projects by using advanced technology and worldwide distribution. Indywood Film Carnival is an attempt to educate the stakeholders about the importance of such projects. The entire industry, including actors, technicians, producers, and distributors apart from State/Union Governments should come forward to support this desi initiative," he said.
He added that Indywood Billionaires Meet, Indywood Academy Awards, Indywood Telly Awards, Indywood Fashion Premier and All Lights India International Film Festival are the major attractions of IFC 2018.
Why Hyderabad?
Hyderabad holds the Guinness World Record for the largest film production facility in the world. Moreover, Prasad's IMAX in Hyderabad is one of the largest 3D IMAX screens and the most attended cinema screen in the world. And to top it off, Bahubali, the highest all-time grossing movie sequel in India (combined gross collection of 376.2 million USD) was produced from the Pearl City. Project Indywood's mission is to transform Hyderabad as the hub of Indian Film Industry.
Mission Indywood
Project Indywood aims to establish 10,000 4K projection multiplex screens, 100,000 2K/4K projection home cinemas, 8K/4K film studios, 100 animation/VFX studios and film schools adhering to international standards.
Indywood Film Carnival 2018: Highlights
Indywood grabs Rs 3,000 crore investments from NRI tycoons
The Indywood Billionaires Club, launched last year with an aim to open the doors of Indian Film Industry for foreign direct investment, has already secured investments worth Rs 3,000 crore from around 20 leading NRI investors based in the UAE (United Arab Emirates), Europe and Asia-Pacific. IFC 2018 is expected to increase the investment by several folds. These, in turn, will increase job opportunities in related sectors apart from materializing mega movie projects.
Indywood Academy Awards (IAA)
The crown jewel of IFC 2018, Indywood Academy Awards (IAA) is an attempt to promote the excellence of regional films and bring them to global recognition. The awards will be presented in 26 different categories including Best Picture, Best Director, Best Actor and Actress, Best Foreign Language Film and Best Child Artist.
The entries will be initially shortlisted by 1,000 members of the World Film Society (WFS). Later, a jury panel chaired by renowned filmmaker, music director and cinematographer Goutam Ghose will announce the winners. Ashish Kulkarni, B Lenin, Madhu Ambat and Ravi Varman are some of the prominent jury members. For more details, log on to indywoodacademyawards.com
Indywood Film Market (IFM)
Indywood Film Market aims to be the one stop to connect delegates, various service providers, technology developers, filmmakers, producers, exhibitors, distributors and other stakeholders of the global film industry. This year, IFM will be a three-day event and will see a host of interactive sessions, diverse exhibition arenas, B2B awards function and high profile networking parties. For more details, log on to ifm.co.in
All Lights India International Film Festival (ALIIFF)
ALIIFF, one of the leading film festivals in the world, will host competitions in feature films, short films, student's short films, documentaries and debut directors. There will be a separate competition for Indian movies besides showcasing a wide range of productions including world premieres, animations, children's films and travel diaries. Renowned filmmaker and scriptwriter Balachandra Menon is the Festival Director of ALIIFF 2018.
ALIIFF was a resounding success last time screening over 130 films from 50 countries. For more details, log on to aliiff.com
Indywood Talent Hunt (ITH)
Indywood Talent Hunt is a platform for upcoming stars all over the world to showcase their potential and secure direct entries to the global film industry. It is also a confluence of the finest creative talents from all over the globe in a plethora of sectors, including Short Film Making, CSR Video Making, Documentary Film Making, Music Video, Music Production, Educational Video, Photography, Animation, VJ Hunt, RJ Hunt, DJ Hunt, Music Band, Indywood Got Talent, Best Reporter/Journalist, Model Hunt, Best Film Club, Poster design, Online Promotion etc.
Indywood Talent Hunt also recognizes the Best Actor, Actress, Singer, Music Director, Cameraman, Editor, Sound Designer, VFX, DI, Production Controller, Makeup, Costume Designer, Production Designer among others by providing them with awards. For more details, log on to indywoodtalenthunt.com
For more details, please visit:
Indywood Film Carnival - indywood.co.in
Sohan Roy - sohanroy.com
---