NRI tycoon Sohan Roy selected as AsiaOne Global Indian of the Year (2016-2017)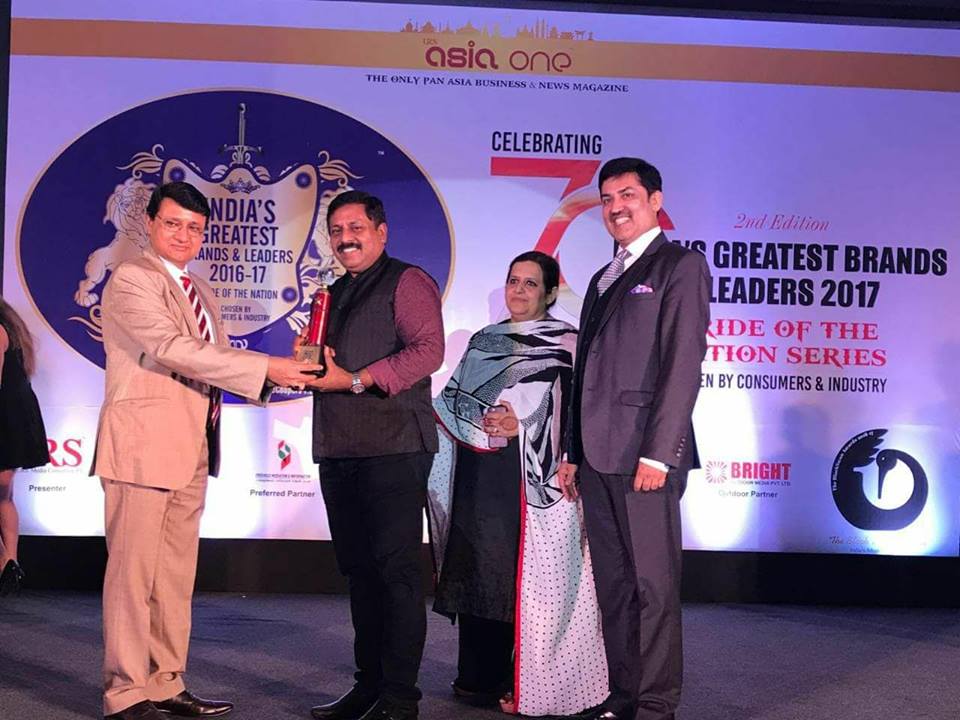 UAE-based NRI millionaire Sohan Roy is the Chairman and CEO of Aries Group, one of the largest multinational conglomerates in the Middle East with 45 companies operating in 15 countries across the world
Sohan Roy spearheads 10 billion US dollar Project Indywood, an ambitious initiative to elevate Indian Film Industry to global standards and to unite the film fraternity globally
Many prominent entrepreneurs including billionaires Adi Godrej, Anil Agarwal, Srichand P Hinduja and Gopichand P Hinduja were other recipients
Kochi: As a token appreciation of acute business vision, innovation and leadership skills, UAE-based NRI entrepreneur Sohan Roy, Chairman and CEO of Aries Group, has been honoured with prestigious AsiaOne Global Indian of the Year (2016-17). The award was handed over to him at a function titled "Celebrating 70 – Pride of the Nation Series Awards and Business Summit 2017"
held at the Taj Lands End Hotel, Mumbai, on Monday.

"It is a special feeling to note that our contributions to the society have been acknowledged. AsiaOne award increases our responsibility to contribute more. It is a team work and wish to dedicate this award to my energetic team members," said delighted Sohan Roy.

AsiaOne Global Indian of the Year 2016-17 (AGOY) is an attempt to recognize the remarkable contribution of Persons of Indian Origin (PIOs) all over the world. AsiaOne selected Sohan Roy for his outstanding contributions in entertainment sector.

Sohan Roy spearheads 10 billion US dollar Project Indywood which aims elevating Indian Film Industry to global standards in the next five years through a consortium of 2000 Indian billionaires and corporates. The Rs 70,000 crore Project Indywood aims at initiating 10,000 new 4K projection multiplex screens, 100,000 2K/4K projection home cinemas, 8K/4Kfilm studios, 100 animation/VFX studios and film schools conforming to international standards.

Many prominent entrepreneurs including billionaires Adi Godrej, Chairman of Godrej Group, Anil Agarwal, Founder and Chairman of Vedanta Resources, Srichand P Hinduja, Chairman, Hinduja Group and Gopichand P Hinduja, Co-Chairman, Hinduja Group were the other recipients.
Aries Group is one of the largest multinational conglomerates in the Middle East with 45 companies operating in 15 countries across the world. In Trivandrum, the capital city of Kerala, the group runs Aries Plex, India's first dual 4K projection theatre and Aries Vismaya Max Studio, previously owned by actor Mohanlal. The group employs close to 1400 people across the globe and 400 alone in India.

Sohan Roy's Hollywood directorial venture Dam999 movie had won many national and international accolades including five Oscar selections. The screenplay of Dam999 movie was added to the permanent core collection in library of the Academy of Motion Picture Arts and Sciences (OSCARS). Besides he pioneered the concept of building dual 4K multiplexes and 4K Atmos home cinemas in less space.

Sohan Roy, listed as one of the Top Powerful and Influential Leaders in Middle East 2017 by Forbes Middle East, is a member of New York-based International Academy of Television, Arts and Sciences (IATAS). He also serves as the Advisory Board member to the World Council of CCCI (Cosmopolitan Chamber of Commerce and Industries).
---