Indywood Billionaire's Club - Kerala Chapter Takes Off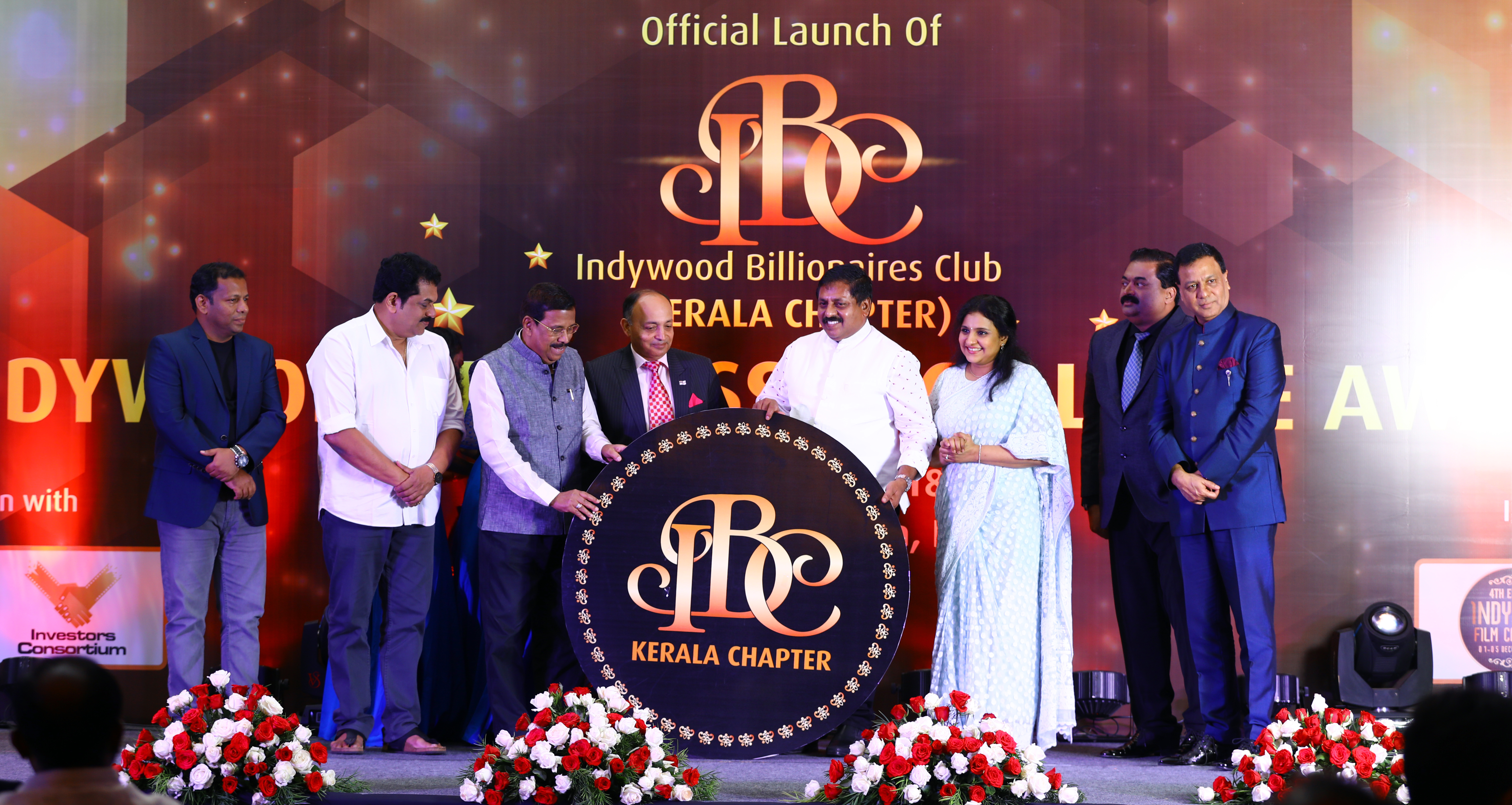 Indywood - Aries Group's $10 Billion Project, launched Indywood Billionaire's Club (IBC) Kerala Chapter at Crowne Plaza, Cochin. The launch was followed by the monumental ceremony of Indywood Business Excellence Awards.
The ball started rolling at 7 PM and the event was graced by respected Cine Artist turned MLA, Mr. Mukesh and his wife Methil Devika, a renowned dancer as Chief Guests. Many other dignitaries including, Anto Antony MP, Dr Mohammed Khan, President and CEO of Khans Media City, P V Gangadharan, eminent industrialist and film producer, Vice Admiral Anil Kumar Chawla, Flag Officer, Commanding in Chief, Southern Naval Command, Dr. C.J.Roy Founder & Chairman, Confident Group and Dr. N. Shafi ul Mulk, CEO, Global Hawk Diagnostics and Actor Krishna Kumar were present along with Sohan Roy, Chairman and CEO, Aries Group and his wife Abhini Sohan, MD, Aries International Interiors LLC.
Along with the IBC Kerala Chapter Launch, company also honored the Fishermen, The Navy and Celebrities, who were in the forefronts of rescue and rehabilitation operations during the recent flood in Kerala.
On the occasion, Confident group CEO Dr.C.J.Roy announced his rehabilitation initiative to reconstruct around 40 houses. The 7 crores project would give homes to 30 families in Kerala and 10 in Coorg. Dr. N. Shafi ul Mulk, CEO, Global Hawk Diagnostics announced that he would launch his revolutionary initiative that will help the public diagnose dangerous diseases such as hepatitis, HIV aids, Malaria, Dengue, Rat fever or Cholera in just three minutes using their smartphones from Kerala instead of Dubai.
Sohan Roy, Aries Group CEO and Founder Director of Project Indywood made an announcement through a press release last month, on rebuilding 100 houses for the families who lost it during the flood in Kerala as a part of rehabilitation initiative. "Aikkarakkonathe Bhishagwaranmar" Indywoods upcoming CSR movie also aims to contribute its entire collection for the effective rehabilitation of the flood hit as well as welfare of the Cinema Industry.
This event would also witness the Cast and Crew Launch of the said CSR movie.
Launched in 2017 December in Hyderabad, IBC has now turned out to be of prime significance as a body uniting India's greatest business tycoons to revolutionize the country's entertainment Industry and is as the name suggests,a part of the USD 10 Billion project, Indywood.
About Indywood Billionaire's Club
The Indywood Billionaire's Club is an elite network of India's wealthiest individuals with people with an asset value of INR 100 crore or more as its members. *Founded with the agenda of elevating the value of the Indian Rupee and make it on par with the dollar*, IBC members will be exposed to investment opportunities that can help in the nation's rebuilding process and will provide local job opportunities. IBC envisions a developed India by 2030.The club, through its investment initiatives, would boost Foreign Direct Investment in the entertainment sector.
The Indywood consortium is an umbrella network connecting 2000 influential and wealthy individuals with the latent potential of India's multi-billion dollar film and entertainment sector. The consortium plans to produce 1000 movies over the next 5 years with added focus on the Indian Animation and Television industry. The consortium also aims at a more effective monetization of Indian cinema's potential and raise its share in Global Cinema by 40%. Several Mega Film and theater projects and a host of multi format cinematic infotainment programs such as Educational Content and Sporting events are now known to be in the making. India's most expensive movie- the 1000 crore Mahabharata and world's first 8K Multiplex Project at Uduppi have the members of the consortium involved in them. Plans say that India would have at least 1000 8K screens by 2020.The zeal of the consortium has been recognized by cinema powerhouses like S. Korea, Nigeria, Iceland, Czech Republic, and even non-cinema nations like Saudi Arabia.
---