Indywood to launch Mammoth Billionaires Club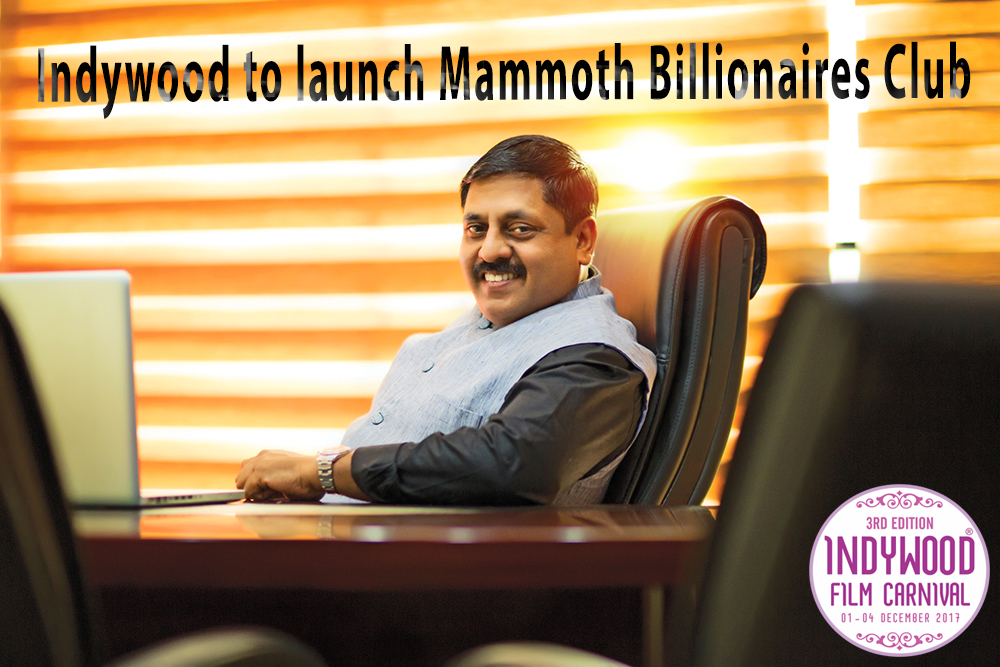  10 billion US dollar Project Indywood is organizing the gala meet
 Over 50 billionaires and tycoons from 100 plus countries will join
 UAE-based NRI industrialist Sohan Roy spearheads Indywood
 The official launch will be held at Ramoji Film City on December 1
A grand meet of movers and shakers from over 100 countries will be held as a part of Indywood Film Carnival, a flagship event organized by 10 billion US dollar Project Indywood. The event is expected to give a fresh impetus in boosting foreign direct investment in entertainment sector in the country.
UAE-based NRI industrialist Sohan Roy spearheads Project Indywood which is being promoted by 2000 Indian billionaires and corporates. Indywood Film Carnival positioned as one of the largest film based events in the world will be held at Hyderabad-based Ramoji Film City, the largest film studio in the world, from December 1 to 4.
More than 50 billionaires of Indian origin and over 400 investors from across the globe will attend the inauguration of Billionaires Club on 1 st December at Lime Light Open Air Auditorium from 7:00 PM to 9:00 PM.
Billion Dollar Club
Commenting on Billionaires Club, Sohan Roy who is also the Founder Director of Indywood highlighted that Billionaires Club is a novel initiative to attract tycoons, investors and corporates from across the world to entertainment industry in India.
"Opportunities galore in entertainment sector especially movies, animation and graphics. The Indian Film Industry according to a report prepared by Deloitte-Indywood is expected to grow at 11 per cent CAGR reaching USD 3.7 billion by 2020. In the coming years the volume of foreign direct investment will play a decisive role in conceiving and implementing mega projects. Billionaires Club is a new step in this direction to educate movers and shakers about the vast opportunities in the sector and how it can be tapped effectively," he said.
1000 Movies in 5 Years
Sohan Roy, Director of Hollywood movie Dam999 announced that Indywood consortium will produce 1000 movies in the next five years and many of the mega film projects would be produced by renowned billionaires and investors.
Big Numbers, Less Revenue
"The Indian film industry is the largest in the world in terms of number of films produced with around 1,500 to 2,000 films produced every year in more than 20 languages. Despite large number of films produced, the Indian Film industry's gross realisation has been substantially lower than its global counterparts," added Sohan who is the Chairman and CEO of UAE headquartered Aries Group, a multinational conglomerate with 45 companies having presence in 15 countries across the world.
Indywood Impact
BR Shetty, Chairman of BRS Ventures and Founder of NMC Group who was the chief guest of 2nd edition of Indywood Film Carnival announced Rs 1000 crore Mahabharatha project after attending the event.
World of Cinema
The four day Indywood Film carnival will comprise of 15 major events and will showcase 250 movies from 100 countries including 75 red carpet screenings as part of its film festival segment. The mega event is also expected to draw 300 exhibitors, 5000 trade delegates, 500 plus potential investors and 2500 plus Indywood Talent Hunt finalists.
The conference sessions will include Golden Frame Awards, Excellence Awards, Red Carpet, Networking Events, Product and Project launches, Film Tourism, Investors Meet, Media Interactions, Conferences and Panel Discussions, Workshops and Seminars and Film Business
For more details, visit: sohanroy.com
---