Philippine movie Area released in 2016 to be showcased at ALIIFF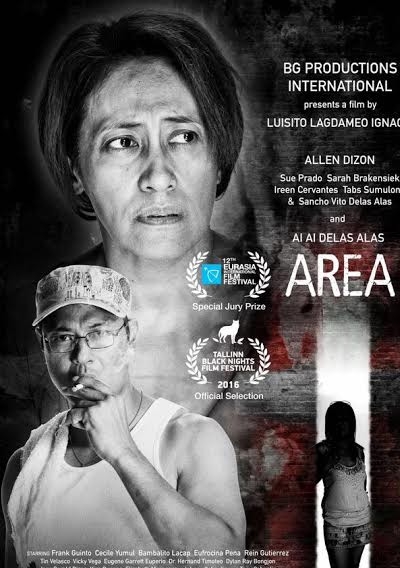 All Lights India International Film Festival (ALIIFF) is proud to announce that acclaimed Philippine movie Area, will be showcased at the festival as part of the International Competition for Feature Films segment. The film had received critical acclaim worldwide for its surreal portrayal of a woman trying to break free in a man's world.
The movie chronicles the life of Hillary, an aging sex worker played by Ai Ai delas Alas, who is part of a brothel in a neighbourhood called AREA where sex workers can be had for a can of sardines or even on credit. During its heyday, Area had up to 700 brothels servicing thousands of low-income men, hormonally active boys and society misfits-- all taking advantage of the bargain price of sex available here. Hillary is saving for a trip to the United States to find her long lost son and ultimately leave her profession. Hillary's world collapses when her money is stolen and the brothel owner refuses to file charges, because the suspect is a village watchman whom he cannot afford to displease. The story takes place during the Holy Week, when the residents of Area perform rituals of penitence to wash away their sins and be ready for another year of business as usual.
The film won Ai Ai delas Alas the Best Actress Award at both the ASEAN Awards and New York's Queens World Film Festival in 2016, while director Louie Ignacio won Best Director award at ASEAN.
About ALIIFF 2017
After the grand success of its first two editions, ALIFF 2017 has lived up to its reputation as one of Asia's finest film festivals, receiving well over 1000 film submissions from nearly 80 countries. Veteran Indian filmmaker Shyam Benegal will curate the event as its Festival Director.
Started in the coastal city of Kochi in 2015, ALIIFF is considered as one of India's premier film festivals. In the last 3 years, it has grown in stature, shifting base to Ramoji Film City in Hyderabad. For its 2017 edition, to be held from Dec 1-4, a total of 115 films from 80+ countries will be featured in 6 competition and 9 non-competition categories. Movies screened at ALIIFF, such as Theeb, have gone on to gain global recognition at the Oscars and Cannes Film Festival.

About Indywood Film Carnival 2017
ALIIFF is held as part of the annual Indywood Film Carnival, the world's largest film carnival and technology expo. Sohan Roy, director of Hollywood movie Dam999 and member-IATAS, spearheads the 10 billion US dollar Project Indywood which aims at elevating Indian Film Industry to global standards in the next five years through a consortium of 2000 Indian billionaires and corporates. He was listed among the Top Powerful and Influential Leaders in Middle East 2017 released by Forbes Middle East.
The Rs 70,000 crore Project Indywood aims at initiating 10,000 new 4K projection multiplex screens, 100,000 2K/4K projection home cinemas, 8K/4Kfilm studios, 100 animation/VFX studios and film schools conforming to international standards.
The 2017 edition of the 4-day carnival is three times larger than its previous editions, and will comprise 15 major events. The conference sessions include Media Interactions, Conferences & Panel Discussions, Workshops & Seminars, Film Business Quiz, Golden Frame Awards, Excellence Awards, Red Carpet & Networking Events, Product & Project Launches, Film Tourism
and Investors Meet.
Special country and regional pavilions will add to the global appeal of the event, while a variety of entertainment programmes set amidst the company of national and international filmmakers, celebrity guests, social influencers, industry leaders and government decision makers will bring in the much needed charisma to one of the most anticipated events of the Indian film industry.
---